Let's face it: at this price, you're not going to get a camera offering the highest picture quality or the widest range of features. But a £100 is a £100, especially in these tough economic times, and so it's not unreasonable to expect a decent performance. Not least because there are a number of sub-£100 cameras on the market, and if you're prepared to shop around, you can find some fine end-of-line models at a similar price point.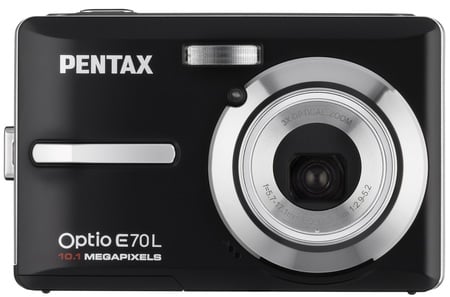 Not bad, not great
Overall, picture quality was a mixed bag. Noise becomes noticeable once you reach ISO 400, and at ISO 800 and above, it is highly visible. Chromatic aberration was noticeable in some frames, no doubt due to the quality of the optics, and some images were a little soft.
The Night Portrait mode did a good job in improving exposure, but the price paid was increased camera shake due to the slow shutter speed. Movie clips were smooth, but focusing was hit-and-miss, as you can't zoom. Sound quality was highly compressed too.
It all sounds negative, but we were pleasantly surprised by the quality of many of the images, and the continuous shooting modes worked better than some systems we've seen on higher priced cameras. Although the wide angle setting isn't that great, the Optio E70L managed to squeeze in a fair amount of side detail.
Overall, we feel that the Optio E70L is worth considering if you're a digital beginner or someone who wants a relatively low-priced camera for taking snaps. The Optio E70L has its faults, but what camera hasn't - especially at this price?
Verdict
A low-priced camera aimed at the digital beginner or the person watching their pennies. As with any entry-level camera, there are inevitable compromises, but the Optio E70L's price tag makes some of these forgivable. ®

Pentax Optio E70L
A basic, budget camera aimed at the digital beginner or the person watching those pennies.
COMMENTS
I've got a ~4 year old Optio S5i
This review could've been applied to it almost verbatim. You'd think in four years they'd improve more than just the megapixel count :\
In one word .....
I can sum up the results in one word: Uninspiring. Even if I was looking for a cheap camera to take to a pop festival, I'd still give the E70L a miss and look for an end-of-line special.
Truly, this is a product which aspires towards mediocrity. I'd expect it to carry a supermarket's own brand name, not Pentax.
PS. Still no sensor array area! I'd rather have more mm² than more megapixels.
Photo of the stripes
Were those stripes parallel and straight in real life? If so, that's some of the worst barrel distortion I've seen in a long time.