Pentax Optio E70L
Bargain?
Review A credit crunch camera or a model aimed at the digital beginner? You can take your pick when it comes to the Pentax Optio E70L. This budget camera costs less than £100, which is nice, but there's a big difference between offering a low price and good value for money. Buying cheap can be an expensive mistake, so where does the Optio E70L sit?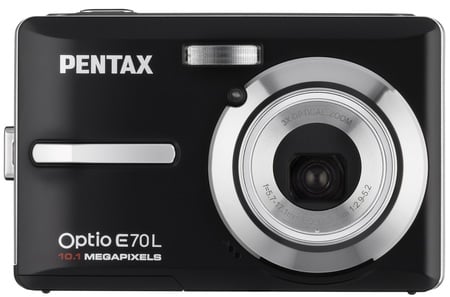 Pentax's Optio E70L: bargain?
As expected for a camera at this price point, the Optio E70L is made of plastic. But despite its polycarbonate construction, it feels pretty solid in the hands. At the front is the usual zoom and flash arrangement, along with a protruding silver horizontal strip which acts as a finger rest.
On top are the power button and shutter, while at the back are a 2.4in LCD screen composed of 112,000 dots; zoom rocker; playback button; four-way controller for flash mode, macro, drive mode and smile/face detection selection; plus Menu and scene mode buttons.
On the right is an exposed mini USB port for PC/AV output. At the bottom, you'll find a flap covering the battery and SD/SDHC/MMC card slot. There's also a plastic quarter-inch tripod bush.
Like many entry-level models, the Optio E70L uses a couple of AA batteries, which can be alkaline, Lithium or NiMH. Pentax reckons you can shoot around 180 frames with two fully charged batteries.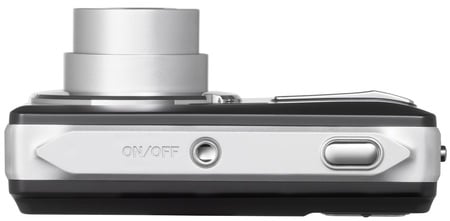 Not a control-freak's camera
Feature-wise, the Optio E70L is pretty respectable for a camera at this price point. There's a 10Mp 1/2.3 inch CCD; a 5.7-17.1mm/f2.9-5.2 3x optical zoom equivalent to 32-96mm in the 35mm format; shutter speed range of 2-1/2000s; ISO range of 80-1600; image resolution ranging from 3648 x 2736 down to 640 x 480 (VGA); face detection and smile detection technologies; VGA and QVGA (320 x 240) video recording - Motion JPEG format at 30f/s, stored as a .AVI file; 16 shooting modes, two continuous shooting (aka multi-burst) modes, anti-shake technology in the form of a High ISO mode; and several colour effects (such as vivid and sepia).
COMMENTS
I've got a ~4 year old Optio S5i
This review could've been applied to it almost verbatim. You'd think in four years they'd improve more than just the megapixel count :\
In one word .....
I can sum up the results in one word: Uninspiring. Even if I was looking for a cheap camera to take to a pop festival, I'd still give the E70L a miss and look for an end-of-line special.
Truly, this is a product which aspires towards mediocrity. I'd expect it to carry a supermarket's own brand name, not Pentax.
PS. Still no sensor array area! I'd rather have more mm² than more megapixels.
Photo of the stripes
Were those stripes parallel and straight in real life? If so, that's some of the worst barrel distortion I've seen in a long time.