Lite-on eSAU208-16
Very netbook friendly
Lite-On bundles Nero 7 Essentials, which isn't the latest version of the well-known Windows disc burning app and doesn't have all the extras, but is still a useful piece of support software. It does include Nero Express for disc burning, Show Time for video playback, Vision for video editing, Recode for file conversion and InCD for handling rewriteable discs. Lite-On makes no claim to Linux or Mac OS X compatibilty.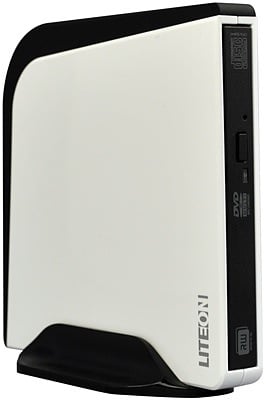 Can be mounted vertically
Mac users will probably want to check out LG's nicer-looking but LightScribe-less - who cares? Use a pen to write your labels - GP08.
This version of Nero 7 Essentials includes support for LightScribe writing. If you haven't used LightScribe before, the technique laser-etches a greyscale image into a special coating on the top side of LightScribe CD or DVD media. It's an HP technology, licensed to other drive and disc makers, and Lite-On has been an HP partner since the early development days.
In the same way you can add text and images to a CD/DVD labelling program, you can build up a design in Nero Cover Designer, then flip the disc over and burn the top side using the LightScribe option. Although the image is only greyscale, you can buy coloured disc blanks to brighten things up. LightScribe is an unusual option on a slimline drive.
Despite its model number, the eSAU208-16 is an 8x drive running DVD±R or DVD+RW discs, 6x on dual-layer DVD±R and DVD-RW, and 5x with DVD-Ram. It reads and writes CDs at 24x, irrespective of type.
Recording 4.5GB of data to DVD+R took 832s (13m 52s) on this drive, giving a real-world average record transfer rate of 5.36MB/s. Transferring the data back took 581s (9m 41s), equivalent to 7.75MB/s. The results from the DVD-R tests were very similar, with times of 859s (14m 19s) for writing and 588s (9m 48s) for reading.

Well portable
The DVD+RW write time is quicker, at 763s (12m 43s), than from either of the two recordable formats, but read back of the same material is quite a bit slower and takes longer than writing, at 772s (12m 52s). Overall, the performance of this drive isn't bad for a slimline drive, though it can be well exceeded by many 5.25in devices. Being bus-powered, it's a lot more convenient to carry around and will easily slip in most laptop bags.
Verdict
This is a neat, all-formats DVD rewriter with the bonus of LightScribe labelling, but without the bulk and extra cabling of a 5.25in device. Lite-On's eSAU208-16 shows a fair turn of speed for a drive based on laptop technology and would be an ideal adjunct to a netbook. ®
More Optical Drive Reviews...
| | | | |
| --- | --- | --- | --- |
| LG GP08NU10 | LG Super Multi Blue BE06-LU10 | Pioneer DVR-116D | LG GGW-H20L |
Sponsored: Minds Mastering Machines - Call for papers now open

Lite-on eSAU208-16
Slimline USB-powered DVD rewriter which supports pretty much every format and includes LightScribe labelling.