Elgato Turbo.264 HD hi-def H.264 encoder
120f/s iPod video encoding, anyone?
More useful is the new video editing tool. Click on a video in the main Turbo.264 HD window and a new screen opens that presents a basic time line onto which you can add markers to block out sections of the movie. Click on the Done button and all the unblocked sections are transcoded into a single H.264 video file.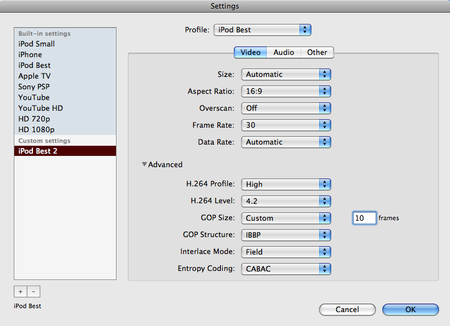 Tweak the encoding settings to your heart's content
Elgato put this in primarily to help camcorder owners block out unwanted footage, but we found it useful to segment DVD rips where a disc of TV episodes had been read as a single movie-length presentation. It's also useful for topping and tailing TV recordings you've copied over from a DVR.
We'd have liked to have the option to transcode the various segments into separate movies rather than a single file. Turbo.264 HD will work the other way: if you load it with, say, four source videos, you can flip a new switch at the bottom of the window to encode the lot into a single file. But you can't easily split a single file into multiple files. This is especially galling because the software can and does take into account DVD chapter marks.
Turbo.264 HD's camcorder support continues with the ability to drive a connected camera to extract AVCHD footage from it.
Now using a 1920 x 800, 24f/s source, we converted to Turbo.264's 1080p, 720p, Apple TV and iPod Best settings. Average frame rates were 31, 27, 14 and 24, respectively, which isn't bad given the size of the source frame and the degree of downscaling - and when you consider that MPEG Streamclip took 19.5 minutes to transcode the file - roughly 2.77f/s. The original couldn't convert to HD, but it managed frame rates for the Apple TV and iPod Best conversions of 17f/s and 23f/s, respectively.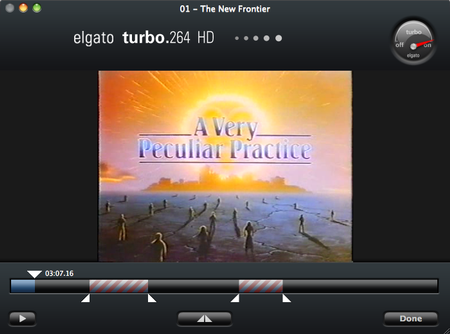 Sections of source video can be blocked from the encoder
Note though that the old Apple TV pre-set was limited to 960 x 540 resolution, the new one is pegged at 1728 x 720.
Sponsored: Minds Mastering Machines - Call for papers now open