Elgato Turbo.264 HD hi-def H.264 encoder
120f/s iPod video encoding, anyone?
An early software-only update added a YouTube pre-set, and the new release gains YouTube HD, plus 720p and 1080p. Since there's no upscaling, the latter's really only for converting from one video format to another.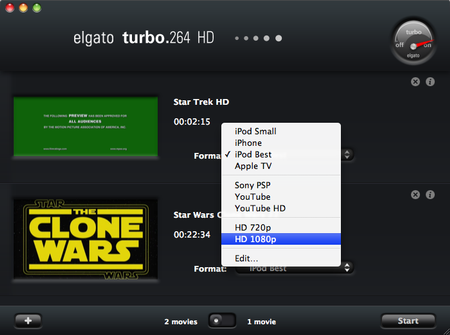 Comprehensive encoding pre-sets
Our initial test centred on a 22.57-minute 624 x 352, 24f/s .AVI file. The test was conducted on a 1.6GHz Core 2 Duo-based MacBook Air, with the 'iPod Best' (640 x 480) pre-set selected. Turbo.264 put in a respectable performance, transcoding the video at a rate of, on average, 45f/s, for an coding time of 11.78 minutes.
Replacing the original dongle with the Turbo.264 HD saw the transcode rate rocket to a peak of 113f/s before it settled down to around 92f/s, making for an overall encoding time of 5.89 minutes. That's almost half the time the original unit took.
We also transcoded the movie using the free app MPEG Streamclip 2 from Squared 5 - an excellent but unaccelerated tool we've used before. Relying on just the processor, and with settings to match those applied by the Turbo.264 apps, the software-only approach took fractionally over 28 minutes, running in less than real time - about 19.35f/s, in fact.
MPEG Streamclip provides a wealthy selection of settings you can adjust to get your transcoded video just the way you want it. An update to previous Turbo.264 app added the ability to adjust a handful of basic settings, but the new released exposes a whole load more that let you get to the heart of the H.264 codec.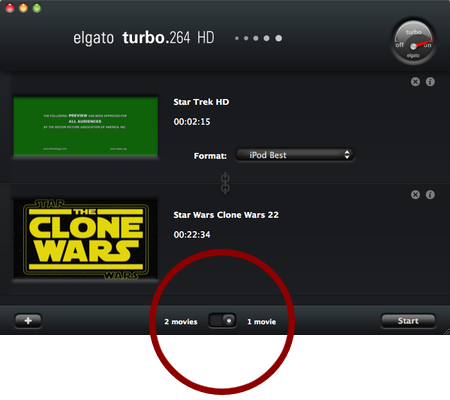 Combine your clips with one click
To be honest, we left them well alone. Only video professionals will feel the need to explore them - and they'll be the only ones who understand this arcana anyway. The point is, though, you can now tweak away if you want to. Our only gripe: as with the original app, you still can't adjust the pre-sets until you add a video to the to-encode list.
Sponsored: Minds Mastering Machines - Call for papers now open