Discovery bids adios to ISS
Undocked and homeward bound
Space shuttle Discovery yesterday undocked from the International Space Station and its crew will today use the vehicle's robotic arm to do a final check on the "thermal protection system" prior to a sheduled Saturday touch-down at Kennedy Space Center.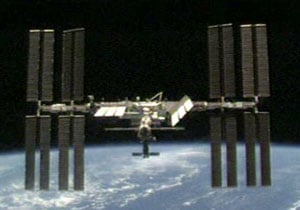 Shortly after departure, Discovery captured this snap of the ISS showing its full complement of solar arrays - now capable of delivering a total of 84 to 120 kilowatts of electricity to support a planned permanent crew of six aboard the orbital outpost.
All being well, Discovery will land at 13:44 EDT (17:44 GMT) at the end of its STS-119 mission. On board are commander Lee Archambault, pilot Tony Antonelli, mission specialists Joseph Acaba, John Phillips, Steve Swanson, Richard Arnold plus former ISS resident Sandy Magnus.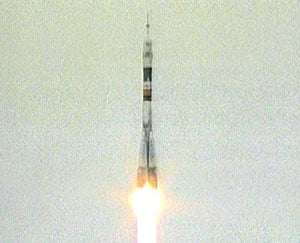 In Kazakhstan, meanwhile, Expedition 19's Soyuz TMA-14 blasted off (see pic) from the Baikonur Cosmodrome at 11:49 GMT this morning, carrying commander Gennady Padalka and flight engineer Michael R. Barratt towards a six-month stint aboard the ISS.
Also along for the ride is space tourist Charles Simonyi, making his second trip to the station. Simonyi will return to terra firma on 7 April with Expedition 18 crew commander Mike Fincke and flight engineer Yury Lonchakov in the Soyuz TMA-13 capsule. The two astronauts launched to the ISS on 12 October last year. ®
Sponsored: RAID: End of an era?