Blades and VMs - IT's peanut butter cup
VMware premium chocolate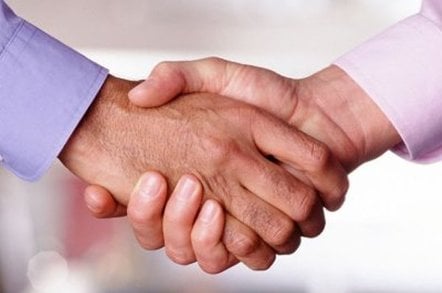 It looks like blade servers and server virtualization are the new Reese's Peanut Butter cup of the data center.
The Blade.org industry consortium that IBM and Intel set up to promote the use of the BladeCenter design has surveyed some blade server shops, hoping to get a feel for their plans for adopting virtualization on their blade servers. And the results show that blade users are rapidly moving towards universal use of virtualization in addition to blades.
When commercial blade servers were launched at the turn of the millennium, the sales pitch was all about less cabling, more density, and ease of management. But virtualizing servers is allowing IT managers to push efficiencies and densities of blades as well as giving them more flexible deployment and recovery options for their applications and their underlying operating systems. I guess that makes the virtualization the chocolate shell and blades the peanut butter.
Blade.org did a survey of customers and broke down the data into large enterprises (those with more than $1m in total IT budget) and SMB shops (those with less than $1m). Here's what the virtualization adoption looked like in the two groups: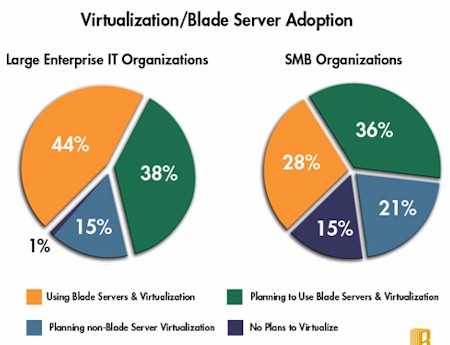 As you can see, only 1 per cent of large enterprises reported that they had no plans to virtualize their servers, and among SMB shops, only 15 per cent said they were not planning on it. (These numbers are a bit whacky because Blades.org mixed questions about bladed and non-bladed servers). What they did not ask, which was odd, was how many of these companies had already virtualized their rack or tower servers, and considering that large enterprises have had virtualization for RISC and proprietary systems even longer than blades have been around, this is a perfectly reasonable question to ask.
The market share for virtualization technologies by vendor is probably the most useful thing the survey talks about, aside from the impression that shops are keen on blades and virtualization together. At large companies, who made up 23 per cent of total respondents, VMware's server virtualization tools are in use at 82 per cent of those polled, while Xen (in its many forms) is used at 44 per cent and Microsoft's VirtualServer and Hyper-V are in use. Companies do not appear to be standardizing across the organization - at least not yet. Among SMB shops, who made up 77 per cent of the respondents in the survey, VMware's ESX Server and related tools are in use at 65 per cent of the SMB shops, while Xen is deployed at 27 per cent and Microsoft at 21 per cent.
While they rank them in different order, both large enterprises and SMBs cited ease of management, disaster recovery, high availability, and energy efficiency as the reasons they wanted to virtualize. ®
Sponsored: Minds Mastering Machines - Call for papers now open