Altec Lansing Octiv Air wireless iPod speaker system
Tunes throughout your house
If the fancy took hold, you could spread those eight speakers throughout your house, one per room or you could set the system up with two per room in the lounge and dining room, and put the other four in your bedrooms and bathrooms. Why two in the living room? Each unit has a switch that allows it to set to Left, Right or Stereo, so you can put, say, two at either end of the room for some seriously spaced out stereo.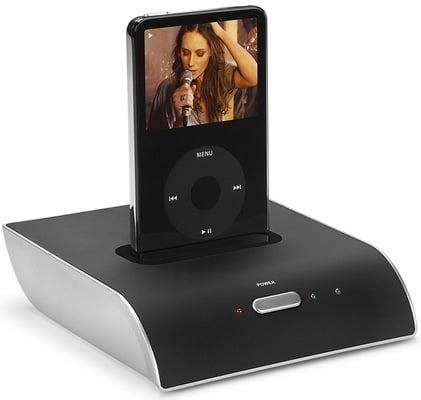 For full iPod navigation, you'll need to go back to the dock...
It also means that, rather than have a speaker unit running at 2 x 40W, it can be set to run at 1 x 80W.
Altec reckons the Air's wireless system will cover 30 metres, and you won't find us arguing with that. Certainly in a three-bed semi, we never had any problems with reception. It's probably worth stating in plain English at this point that an Altec Air will only let you play the same music through all the speakers – a cut-price iPod-based alternative to a Sonos Digital Music System it is not.
The Air's dock transmits its signal to the speakers over the 2.4GHz band and though Altec is vague about it, we suspect it uses an uncompressed 44.1kHz, 16-bit audio signal - CD quality, in other words. So even if you have a disc player plugged into the dock through the latter's 3.5mm auxiliary audio input, you shouldn't loose anything by way of quality between the dock and speakers.
Should you experience any interference from other wireless devices – or from other nearby Air docks - you can manually set the system to work on any one of three alternative channels to the factory default.
Each speaker unit contains two 4in full-range drivers and two silk-dome 1in tweeters which result in the Air producing a more than acceptable sound even when using just the one speaker unit. And that's not taking into account that nine-and-a-half out of ten users are unlikely to use the Air to play anything better than medium-quality MP3 files.
Even if the Air isn't what you'd call audiophile, it still pumps out plenty of volume, generates solid - if occasionally rather boomy – bass, bright treble and a decent sense of definition, detail and stereo separation.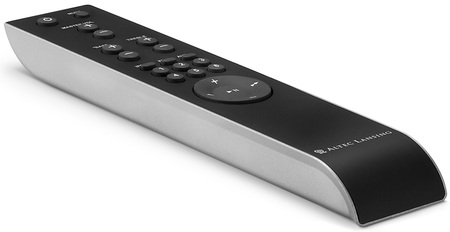 ...rather than rely on the remote
The Air doubles up as an FM radio, Altec even supplying a simple cable antenna that plugs into the back of the dock. It's not RDS, but the auto-tune works well enough and you can assign six station pre-sets. Reception proved pretty good too.
Sponsored: Minds Mastering Machines - Call for papers now open