Pot Noodle boils up instant doner kebab
'The ultimate man food snack'
There's great news today for those of you who like to go out on the lash and then get your laughing gear around death wrapped in pitta bread but sometimes can't even be arsed to hit the pub before partaking of late-night nutrition: You'll soon be able to avail yourselves of a doner kebab-flavoured Pot Noodle.
Indeed, the company is hailing the £1.01 mix of "dried noodles, dried meat pieces and stock powder" as "the ultimate man food snack". Grahame Walker, of Pot Noodle's owner Unilever, enthused: "Kebab Pot Noodle is truly the clash of the male food titans! When it came to developing a new flavour there was one obvious choice - the nation's favourite late-night takeaway."
Restaurant reviewer Ben McCormack was unconvinced by the prospect of the Pot Doner. He admitted to the Telegraph he had "very fond memories" of the snack from when he was a lad, but confessed: "I had one the other day, hoping for a Proustian madeleine moment, but was cruelly disappointed. It was so salty and really not very nice."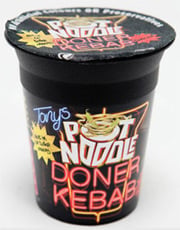 He concluded: "And what are they doing bringing out a doner kebab flavour? How lazy do you have to be. If you want that authentic taste, go around to a kebab shop, where they cook it for you in the time it takes to boil a kettle." ®
Sponsored: RAID: End of an era?