Medion tower makes supermarket debut
'Eggs, bacon, bread, milk, PC...'
Just shy of £500 is rather a lot to spend on the weekly shop, but get yourself down to budget supermarket Aldi this week and the sum will get you a whopper of a Medion PC.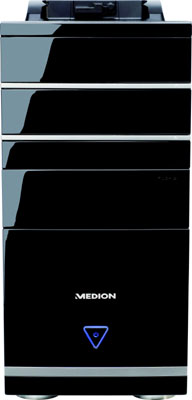 Medion's Akoya P4340 D: coming to an Aldi near you
The Akoya P4340 D tower PC is based on a 2.8GHz Intel Core 2 Duo processor supported by a meaty 4GB of DDR 2 memory. The PC doesn't come with a screen, but has an Nvidia GeForce GT 140 graphics card built in.
A whopping 1TB of storage is included in the Akoya P4340 and, in addition to connecting to networks wirelessly over 802.11n, the PC also has an HDMI port for hooking up your telly.
Speaking of ports, Medion's built eight USB jacks into the tower – two of which are front-facing - and two Firewire ports, one rear-mounted Firewire. A memory card reader is also included.
Because the PC will connect into your TV over HDMI it would have been nice to have been given a Blu-ray option, but you'll have to make do with a DVD combo drive.
Running on Windows Vista Home Premium, the Medion Akoya P4340 D PC will be available from all good Aldi supermarkets from 26 March, priced at £490 ($715/€523). ®
Sponsored: Minds Mastering Machines - Call for papers now open