Apple Time Capsule
One network, multiple standards, simultaneously
This is one aspect of Apple's Airport Extreme and Time Capsule products that has always baffled us. Most wireless routers these days include an ADSL modem and router so that you can set up your network and connect it to the internet with just that single device.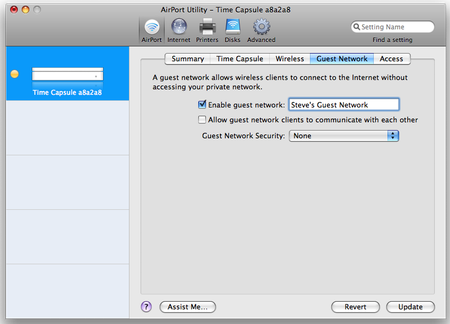 Provide visitors with internet access
However, neither the Time Capsule nor the Airport Extreme router includes a modem, which means that anyone that wants to connect network to internet connection also has to plug the Time Capsule into a separate device.
That leaves you with two lumps of plastic sitting on the floor by your telephone socket, along with two sets of messy cables and power leads. We'd much rather have a combined modem-router in a single box – especially at this price.
The main difference between this update and the original Time Capsule that was announced this past January is its new 'simultaneous dual-band' capability. This means that the Time Capsule can connect to other wireless devices using both the 2.4GHz frequency band used by 802.11b/g devices, and the 5GHz band used by the faster 802.11a standard. The new, faster 802.11n can operate in either band.
The original Time Capsule could work in 2.4GHz and 5GHz, but could only use one band at a time. So if you set it up to work in the 5GHz band for your laptops and later wanted to connect a 802.11g-only device, such as a phone, you had to reconfigure the WLAN. The new model can connect to one set of machines on one band while connecting to other devices on the other band - at the same time.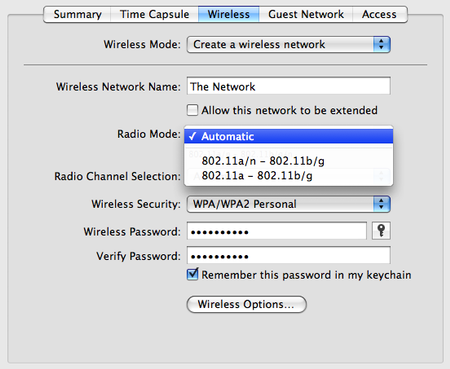 Time Capsule will select Wi-Fi bands automatically
To confirm that this feature worked as advertised, we set up a test network that used the Time Capsule to connect to both an 802.11n MacBook and a trusty old PowerBook with only 802.11g. And, just for fun, we threw in a Toshiba Qosmio laptop running Windows XP that was also equipped with 802.11g wireless networking.