Apple Time Capsule
One network, multiple standards, simultaneously
Using 802.11n on the newer MacBook cut that data transfer time to just over 6.5 minutes (20.48Mb/s), although that still trails far behind the 90 seconds per gigabyte (91.02Mb/s) that we got when we plugged in the MacBook's Gigabit Ethernet interface instead. And even the 10/100Mb/s Ethernet on the PowerBook and Qosmio managed speeds of around 140 seconds per gigabyte of data (58.51Mb/s).
Not surprisingly, Apple's manual tells you that you may have to leave your machine running overnight the first time you use Time Machine to perform a complete system backup on to the Time Capsule, although subsequent backups will be much faster. If all you want is a high-speed network back-up device then a basic Ethernet NAS drive will be both faster and cheaper. However, for home and small business users who just need to back-up files every now and then, those speeds should still be adequate, as well as providing the convenience of a completely wireless network set-up.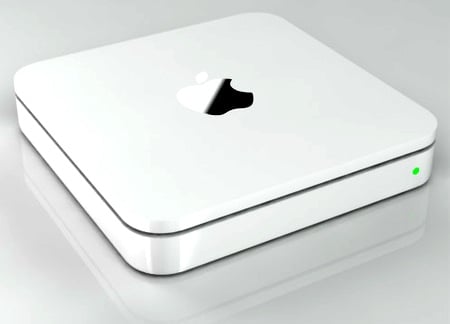 Cool looks
Another convenient addition is the new 'guest network' feature. This allows you to set up a secondary network that gives other people access to your internet connection without needing a password, but which prevents them from using other resources on the network, such as a network printer or the contents of the Time Capsule hard disk.
Apple has also added support for its MobileMe online service, which allows you to remotely connect to the Time Capsule hard disk over the Internet. That'll be handy if you're already a MobileMe subscriber – at £58 per year – but we've not been impressed by MobileMe since its rather shaky launch last year, and there are other NAS drives that provide their own remote access features for free, so this isn't a 'must have' feature.
A conventional wired NAS drive would cost around £130-150 for 500GB, so £229 for the 500GB Time Capsule isn't too bad once you include the versatile dual-band router in that price, along with features such as the guest network and Time Machine integration - although we'd really be sold if it included an ADSL modem as well.
We'd recommend the 500GB model to Mac users who are looking for an easy-to-use network drive, although that ease of use obviously won't be such a strong argument for PC users who don't have access to the Mac's Time Machine software. However, the 1TB model seems seriously over-priced – just buy the 500GB model instead, along with a cheap USB hard disk if you need a bit of extra storage.
Verdict
As is so often the case with Apple products, the Time Capsule's great strength is its ease of use. Setting it up really is extremely straightforward, so it will certainly appeal to ordinary home users and businessfolk who don't know much about networking. The speed of wireless data back-ups isn't terribly impressive, but should be adequate for day-to-day use. ®

Apple Time Capsule
A bit pricey, but the Time Capsule's admirable ease of use makes it a good choice for home and small business users.