Original URL: http://www.theregister.co.uk/2009/03/20/top_model_stampede/
NYC 'Top Model' stampede: The truth revealed
Exclusive snaps of Manhattan mayhem
Posted in Bootnotes, 20th March 2009 12:02 GMT
Free whitepaper – Hands on with Hyper-V 3.0 and virtual machine movement
NYC was last weekend witness to shock scenes [1] at an audition for America's Next Top Model as a panic-stricken crowd of hopefuls stampeded through Manhattan, scattering designer bags and expensive shoes in their wake as law-enforcement operatives attempted to restore order.
The media line on the pandemonium is that it was provoked by an overheating car which some of the wannabe clotheshorses believed might be a bomb. However, the word on the street says otherwise, as we'll reveal shortly.
Meanwhile, here's a snap from our man in New York, who was as ever strategically placed to capture the action: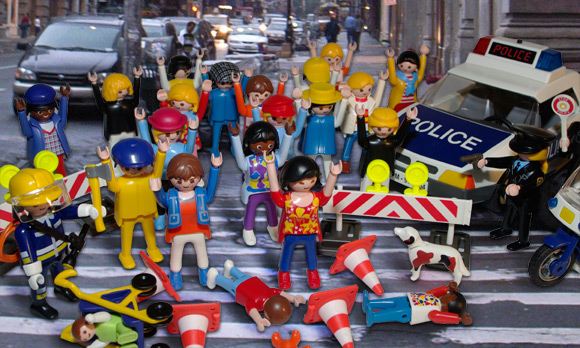 [2]
The Woman of Colour™ seen at the centre is not, we stress, Naomi Campbell. Ms Campbell doesn't do running away - she pays someone to run away for her.
Well, the picture doesn't reveal much about what might have caused the incident, but NYPD sources have exclusively revealed to El Reg three events simultaneous to the audition which may have contributed...
1: The improvised press conference
Here we see Paris Hilton, Jennifer Lopez and Lindsay Lohan availing themselves of the media attending the Top Model bash to announce they'll be starring in a follow-up to The Hottie and the Nottie [3] - entitled Three Hotties, Two Notties and a Fistful of Razzies.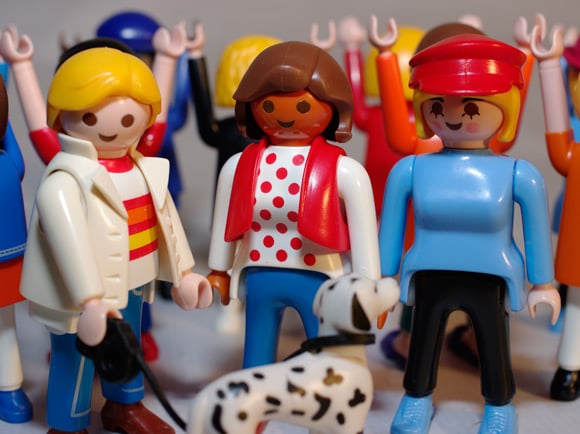 The screenplay for the sequel was penned by Hilton's dog, pictured. Industry insiders say Mike Myers will exec-produce the project, with Ed Wood at the helm. Wood was, sources say, cloned from a small fragment of DNA taken from a dress used in 1953 classic Glen or Glenda.
The public reaction to the announcement was, as you can see, a rapid case of voting with the feet to exit the area as quickly as humanly possible.
---
2: The flying gitwizard
This remarkable image, taken just seconds before the Top Model chaos, shows a flying gitwizard suspended under a magical stealth aircraft in an attempt to reboot his career following the humiliating failure [4] of his previous twatdangle [5]: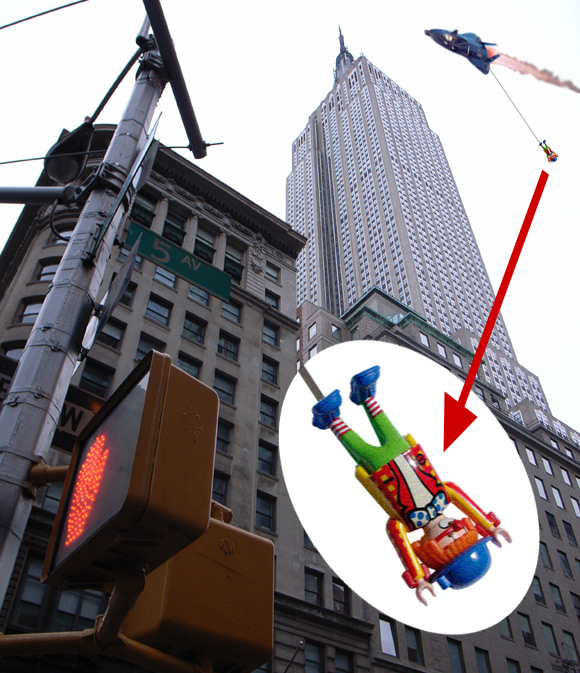 Of course, New Yorkers are not fazed by twatdangles, but in this case those in the Manhattan streets below were spooked by the possibility the airborne illusionist's bladder might not hold out until he reached the airstrip at his Brooklyn sorcerer's castle.
---
3: The home insemination attempt
Here's another pic from our stateside snapper. A Massachusetts woman, who's been parked on a sofa outside the Top Model audition all night the better to secure an early spot in the castings has, after an excess of liquor, decided to impregnate her wife [6] with a plastic syringe containing her brother's man juice: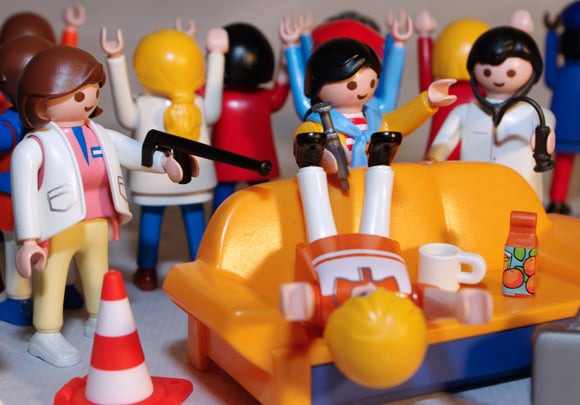 As horrified witnesses scatter, paramedics are seen moving with spacebat-like speed [7] to rescue the relationship. We gather the couple are now reconciled, although bruv is a bit downhearted that he won't after all be Massachusetts' first "fatheruncle", or "fruncle" as they say in the Friends of Dorothy community.
And finally, as regular readers of our sensational on-the-spot pictorials will have guessed, here's the real cause of the Top Model kerfuffle: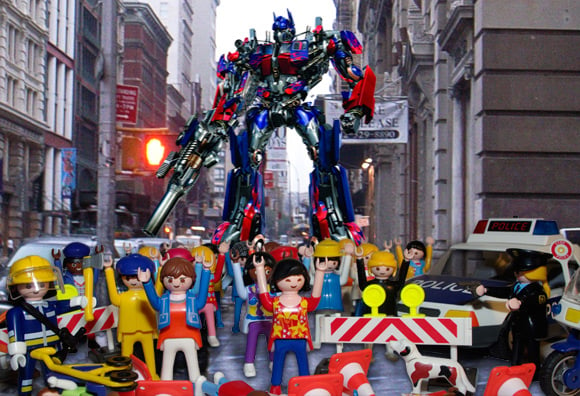 [8]
Optimus Prime's anger was, we should explain, caused by Top Model's insistence that only candidates 5' 7" or under were eligible to audition for the show. Having been sold short, Mr Prime is about to express his dissatisfaction in the traditional way. Enough said. ®
Related stories
For your viewing pleasure, we have collected all of El Reg's Playmobil coverage right here [9].