Asus Eee PC 1000HE netbook
Nine-hour battery life? You betcha
In everyday use, the new Eee didn't feel particularly nippier than any other HDD-fitted netbook we've tried. Quicker than some, yes, but not significantly so. If you're looking for your first netbook, the 1000HE offers no head-and-shoulders performance lead over rival machines.
Battery life is a different matter, though. Fully charged and with Wi-Fi on and the screen set of maximum brightness, Windows quoted an estimated 6h 35m of runtime with the 1000HE set to High Performance mode. Running our customary H.264 SD video loop test, the battery gave out after a staggering 5h 35m - more than a hour more than the Samsung NC10 and the best score a netbook has given us by far.
Battery Life Results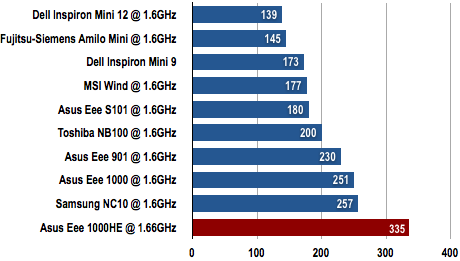 Battery life in minutes
Longer bars are better
More to the point, we tested the battery life of the 1000HE when it was running at 1.66GHz, so you can expect more runtime in Power Saving mode - and a lot more when running less CPU and GPU intensive apps with the backlight on max. Using the Wi-Fi and backlight judiciously, we don't see any reason why you couldn't get up to Asus' claimed nine-and-a-half hours.
That's bad news for the NC10. The 1000HE weighs in at 1.45kg (3.2lbs), not appreciably more than the NC10's 1.33kg and the two are as near enough the same size as makes no odds. Performance-wise, there's not much in it either.
Asus wants £329 for the 1000HE, which is what Samsung wants for the NC10. We've seen the NC10 online for around £300. All other aspects being equal, you can either save yourself 29 quid, or pay it and get a rather longer battery life and fast Wi-Fi into bargain.
Verdict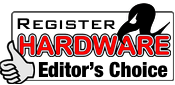 It's a nice mini-laptop, the Eee 1000HE: eminently capable, with a good keyboard, the latest Atom, 802.11n Wi-Fi and plenty of storage space for which you're not really sacrificing resilience - given the 1000HE's size and weight, it's inherently not the chuckabout netbook a 9in SSD model might be. The screen's a tad too dark but, crucially, it's got that enormous battery life. Asus retakes the lead - provided punters get the same battery reviewers do. Your move, Samsung... ®
More Netbook Reviews...
| | | | |
| --- | --- | --- | --- |
| Samsung NC10 | Dell Inspiron Mini 12 | Lenovo IdeaPad S10e | Fujitsu Siemens Amilo Mini |
Sponsored: Minds Mastering Machines - Call for papers now open

Asus Eee PC 1000HE netbook
If it's a 10in netbook you want, you can't get one with a longer-running battery than the 1000HE.