Asus Eee PC 1000HE netbook
Nine-hour battery life? You betcha
The big change Asus has made to the 1000HE's look is the keyboard. The one here is of the lozenge variety - "open", Sony calls it; Americans call it a 'chiclet' keyboard. Whatever it's called, the keyboard has buttons that are spaced apart. It's an illusion, of course - the faces of the keys are no smaller than they are on an 'ordinary' keyboard, but with no sloping edges, each one is clearly defined and, we have to say, much easier to type on.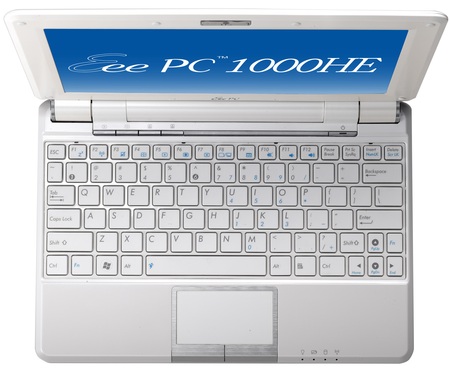 New style keyboard
That's not just because they're easier to locate but also because the board feels a lot more solid and certainly less rattly than past Eee keyboards, even those on the bigger models. It's the best keyboard we've seen on an Eee yet.
It's also one of the most accessible for upgrades. The base of the machine sports a hatchway that, when lifted, exposes the single (populated) Dimm slot and the 2.5in hard drive. To reach the Wi-Fi card and the Bluetooth module, though, you'll have to remove the entire lower casing.
Asus bundles the 1000HE with a zip-up case that's nice to have but awful to touch - it has a really peculiar feel that we didn't like, and neither did anyone else who touched it. A better bundle, perhaps, is the 10GB of online storage you get with the machine, linked through from a handy drive icon in the My Computer window.
So yes, this boy runs Windows XP rather than Linux, and we got the distinct impression from Asus that it'll only be offered with XP. Fear not, Penguin fans, the excellent Eeebuntu distribution is only a download and disc burn away.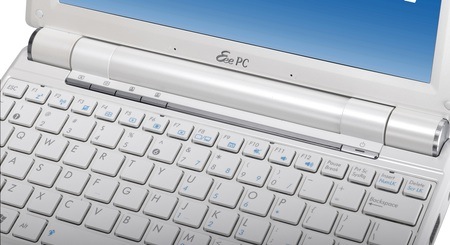 Extra, silver keys at the top are user-definable
So how does the N280-based 1000HE perform? Not at all bad, as netbooks go. PCMark05 didn't show much of a gain going up from the Atom N270's 1.6GHz to the N280's 1.66GHz - and no increase when the CPU's overclocked to 1.75GHz. Since GeekBench did show a small performance increase, we're minded to put this down to a PCMark05 quirk - like the suddenly high HDD rating in Power Saving mode - but either way, the conclusion is the same: the extra is nice to have but not worth replacing your existing netbook for.
Sponsored: Minds Mastering Machines - Call for papers now open