Philips 42in Ambilight LED array TV
The best 1080p LCD TV yet?
But back to those complicated settlings. Philips picture settings are notoriously finicky, often involving turning the levels down on the many features to avoid motion blur or turning elements off under certain circumstances. This isn't because the Philips image processing technologies don't work. In fact, they're good because they're so specific.
But at least there are fewer problems here than in some earlier TVs by offering simpler ways to reach the effect you want. There seems to be more latitude in how you set things and fewer sudden juddering movements or smeary motion. Of course, some aspects are just personal taste – you can set the Ambilight backlight brightness according to your fancy, for instance.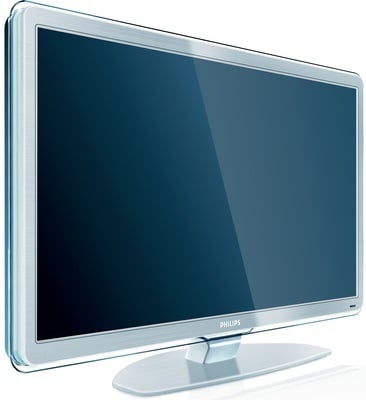 Cool design - but it doesn't come cheap
Wider viewing angles are de rigueur with flatscreen TVs these days but the Philips didn't impress us. Although the picture looked great if you were directly in front of any part of it - even over to the side of the frame - from only a small distance beyond that the picture quickly deteriorated, making it unwatchable as you walk into the room, say, until you're nearly in prime position.
Still, there's always Ambilight, a wonderful invention that, once you're used to it, makes the TV seem easier on the eye. And makes the room and TV look grey when you watch without it. This is two-sided Ambilight: it's fine and worth having, but if you're used to the three-sided version, you'll miss the extra dimension.
Verdict
This is a great TV, make no mistake. Ambilight is impressive, but it's the addition if the LED backlighting array that really makes this set stand out. Sure, the 42PFL9803 has its quirks - the remote and the difficulting of going beyong the default settings - but it's nontheless an exciting and cool TV that offers good sound, a great design and one of the very best pictures on the market.
But you'll be paying a significant premium for it. That may not matter if you're willing to spend whatever it takes for top picture quality, but you can buy, say, the Samsung for around half as much as you'll pay for the 42PFL9803 and you'll not be much worse of xxxx. ®

Philips 42in Ambilight LED array TV
A great high-contrast, deep black picture - one the best among LCD TVs - but it comes at a very steep price.