The brushed silvery sheen of the frame is attractive and smart. It's a world away from the grey plastic bezels that came and went from TV fashion recently. This one's plastic as well, of course, but it looks classy. It also packs in what have been called 'invisible' speakers, though in reality they're just tucked out of sight.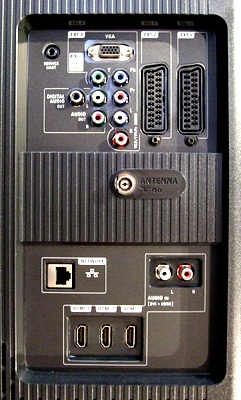 Well connected
While many flatscreens only manage at best average sound, these hidden speakers do their job very well, with plenty of bass and a strong voice channel so you can hear the hero's deathless dialogue above the explosions and action-movie mayhem.
The 42PFL9803 has in integrated Freeview tuner, so it's ready to go with standard-definition content. It supports MPEG 4 as well as MPEG 2, so it should display HD content when that starts to flow over the terrestrial network. Unless Freeview opts for an alternative version of the DVB-T standard, of course.
In the meantime, there are three HDMI ports around the back to hook up a PlayStation 3, dedicated Blu-ray Disc player - like the Pioneer BDP-51FD, for instance - or other HD-ready gadgets, and there's a fourth HDMI port on the side. Alongside the latter, you'll find a USB port, composite-video and s-video links, a 3.5mm headphone socket and stereo audio RCA jacks.
There are more audio jacks on the back, along with digital audio outputs, plus VGA, component-video and a pair of Scarts for your old pre-HD kit. There's even an Ethernet port, which you can use to tie the telling into your home network and use it to grab content from DLNA-compliant server software running on a PC.
We've complained about Philips remote controls before: they look good and work well except for one thing: a scrollwheel that allows you to move up and down a list of options by spinning the wheel. On earlier models, this control was so hair-trigger responsive it was hard to use with precision, and it's not noticeably better here. However, you can also use the dial as a navpad and press the top or bottom of the wheel to scroll options.

The remote is universal
The good news is, the remote will control other devices - just find your equipment in the list at the back of the manual and punch in the codes.
COMMENTS
For £2,000. . .
. . . does this Philips improve the content of whatever's appearing on screen?
We currently find that around 80% of everything pumped out on Freeview is utter crap. (But then, we're watching it on a 26" JVC CRT that cost £140 on eBay three years ago.) If spending £2,000 on this Philips television -- Gawd though, a television! -- will reduce the crap level to, say, just 33%, then is it worth buying?
And after three years, will it still be worth a lorra money? Our JVC's worth £50 according to recent eBay sales, so it's shed two-thirds of its value.
A superduper Philips like this -- assuming, it doesn't actually blow up / break down / fall over, like every piece of Philips equipment we've ever had before -- had better not lose money at that same rate.
People daft enough to lose £1,400 in three years on a device to watch crap TV ought to be the subject of a TV documentary themselves.
**** Paris, especially in ambient lighting. Or 100% pitch black. ****
Maintenance
So what do you do when an LED needs replacing..?
Why not OLED?
OLED panels are 20 Euros a piece in normal sizes, end customer price. That's why you find them in MP3-Players, mobile phones and other devices.
Software updates
The great thing about Philips HDTV boxes is the ease with which the software for the TV can be updated, just hit the 'update software' option in the menu when viewing digital TV and it will grab the latest software over the airwaves, providing support for new features. My 32PFL7962D has had several software updates since I bought it a little over a year ago, each one offering new features and sometimes support for additional codecs.
If the standards for high-def over the airwaves change, I'm sure Philips will update their software to accommodate those changes.
@Jos
Thanks for that link, excellent document... I just found out about the 16:9 marketing fallacy and I'll wait until someone produces a 21:9 display in a sensible size...