London to get EV charging post network
Recharge units to be sited in former filling stations
'Leccy Tech Californian company Evoasis has announced that it's going to build a network of electric vehicle charging stations in and around the central London.
The charging stations – called UpStarts - will all be placed on the sites of disused petrol stations, the first being a 12-bay layout destined for Grosvenor Road in Pimlico, SW1. It and five others will be up and running be the end of the year, according to Evoasis, with another six following soon after - which should bring a warm glow to the hearts of the capitol's electric motorists.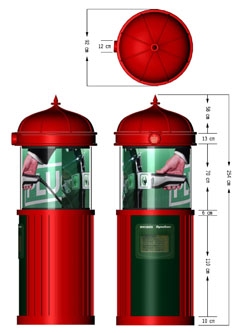 Evoasis' charging post: 'leccy out, not mail in
Currently, Westminster City Council currently has 60 charge points in central London: 48 in car parks and 12 on street. That's quite a few less than Paris, a city that has recently posted the locations of its entire EV charging system on the web.
Evoasis said it is having talks with WCC about upping that number. It's also talking to Tesco about putting charge posts in shop car parks.
The company said that it would want about £2 of your hard earned to charge a vehicle like a G-Wiz or Th!nk City, and that the charging time will be in the order of 20 minutes, which suggests some pretty serious amperage.
The charging posts themselves will be able to work out the model type and battery capacity of cars plugged into them and will be painted post-box red, presumably in order to tie in with the general US tourist's belief that London still looks like it did in 1940.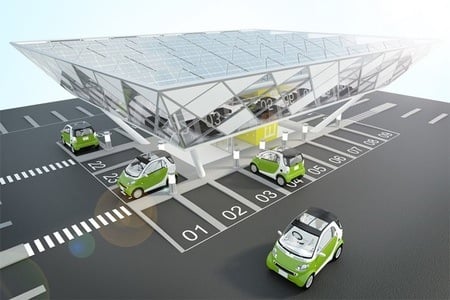 Stansted Airport Evoasis' re-charging site
Each post will also have a built in 360° LCD screen to bombard users with advertising while they get their 20-minute juice fix.
The stations themselves are altogether more modern looking, having been designed by one Richard Barrett of EPR Architects to look like a modern airport lounge. With luck they will come with free Wi-Fi and coffee!
Certainly, other services will be available besides recharging, including on-site auto diagnostics, battery chemistry testing and content delivery for on-board MP3-based entertainment systems.
Come the winter, Reg Hardware will pop down Pimlico way to see how much of this is actually true. ®
Sponsored: Minds Mastering Machines - Call for papers now open