Philips GoGear Spark MP3 player
The ideal iPod Shuffle antidote
Philips reckons you'll get 27 hours from a full charge of the Spark's larger than average 320mAh power pack and though we only got 25 that's still not a half bad number and twice what you could expect from an iPod Shuffle or Sansa Clip.
Two admittedly minor niggles with the Spark are that every time you switch it on it updates the media library. This only took about ten seconds with just under 900MB of data on board, but we suspect it could become a little tiresome if you had the 8GB model loaded to the gunwales with music.
Show album art or your own pics
Our other concern centres on the music scan facility. While this ramps up smoothly and swiftly to the two-minute mark, after that it zooms off at a ludicrous speed rather than maintain a steady rate of x10 or x20. So if you want to scan through a long track – Dire Strait's 14m 22s Telegraph Road, for example – you have to do it in jumps of under two minutes or you suddenly end up at the start of the next track in the library.
Unlike the Shuffle or Clip, the Spark doesn't have an integrated clip, but you do get a rather fine silicone rubber sheath that has an belt loop attachment.
The most basic GoGear Spark – 2GB without an FM radio - will set you back around £39. That's about the same price as the 2GB Sansa Clip, which has a far less appealing screen and a much lower battery life. The 4GB version comes in at £50, a tenner less than the equivalent iPod Shuffle, which doesn't have any screen at all, doesn't sound as good and - in its latest iteration - has daft controls.
Philips says the 2GB FM-equipped Spark will retail for around £45, while the 4GB unit with FM radio will sell for £55. Come May, an 8GB version will show up costing £60 without FM tuner and, presumably, £65 with.
Verdict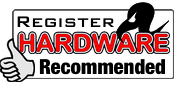 The Spark is Philips most convincing portable music player for quite some time. The sound is above par for the price bracket, the battery life is excellent and the device itself is easy and pleasant to use. If you're looking for a decent MP3 player for around £50 and aren't worried by a lack of Flac or Ogg support then you could do a lot worse. ®
More Media Player Reviews...
| | | | |
| --- | --- | --- | --- |
| iRiver Spinn | Cowon iAudio O2 | Cowon iAudio S9 | Sony Walkman S-series |

Philips GoGear Spark MP3 player
If you can live with the limited file support then the Spark is one of the best small, cheap MP3 players on the market.
Price:
£40 (2GB) £45 (2GB, FM) £50 (4GB) £55 (4GB, FM) RRP