Philips GoGear Spark MP3 player
The ideal iPod Shuffle antidote
FullSound also benefits from only having on and off settings rather than the dozen or so possible permutations that some systems offer and that, frankly, only serve to pad out the features list with ludicrous acronyms and confuse the living daylights out of most users.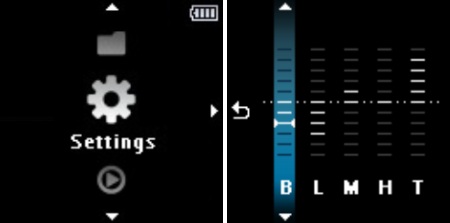 The Spark's settings include a five-band equaliser
As well as FullSound, you also get six pre-set five-band EQ settings and one which is user adjustable. What you don't get are any separate bass or treble controls, but during our time with the Spark we never once felt their lack nor the need to mess with the EQ settings. With Fullsound switched on, the Spark always produced a tight, well focused sound with solid bass along with good definition and separation right across the frequency range.
If we had to criticise anything about the Spark's audio delivery it would be the volume - this isn't the loudest player we have come across. The bundled ear buds are nothing to write home about either, but nor are they any worse that those supplied by the likes of Apple or Samsung at this price point.
The Spark will let you set up three separate on-board playlists but you can't copy any across from an MTP media player app, which is a bit of a disappointment. For Mac and Linux users, it's worth making the point that the Spark showed up just fine on the desktops of both to drag and drop tracks, though we didn't manage to get it to work as an MTP device on either.
As you might expect with a mass-market budget player, format support is nothing out of the ordinary and only stretches to MP3, WMA and WAV audio files, and JPEG and BMP image files. We don't think the absence of video support is much of an an issue - would you actually want to watch video on a screen this size?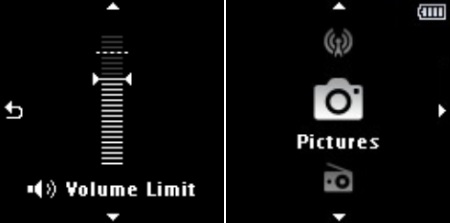 The UI's logically laid out and easy to navigate
As well as audio playback the Spark will let you make mono voice recordings which are stored as WAV files. Be careful how you hold the Spark when recording, though, as the microphone proved very susceptible to taps and knocks on the device body.
Our review device didn't have the optional FM radio fitted so we can't comment on its usability or quality, though, according to the spec. sheet, Sparks with an FM tuner can record off-air.