Philips GoGear Spark MP3 player
The ideal iPod Shuffle antidote
Review We've not looked at any of Philips' GoGear media players before, so the arrival of the new Spark seemed like a good opportunity a poke one with Reg Hardware's metaphorical sharp stick.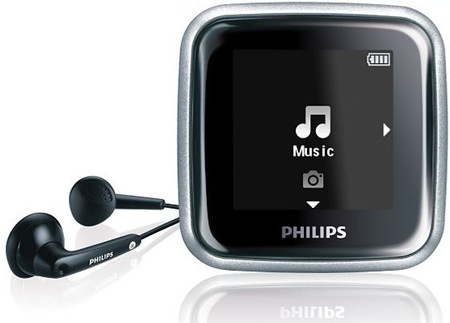 Philips' GoGear Spark: nice and smooth
The basic design of the Spark is a little reminiscent of iRiver's Lplayer, with the navigation controls being operated by pressing down on one of the four sides of the screen. The obvious benefit of this layout is that the screen – in this case a colour 1.46in, 128 x 128 OLED – can take up a substantial percentage of the device's frontal area so maximizing the screen-size to player-size ratio.
Philips doesn't quote a weight for the Spark, but in the hand it feels about the same as a SanDisk Sansa Clip, so we'd take a wild guess at about 25g. At 41 x 41 x 15mm it's a wee bit larger than the Clip, but then it has a much larger – and better – screen. The smooth and beveled design should ensure that snagging won't be an issue. It's a nice looking device too, with the silver screen bezel contrasting nicely with the black plastic body.
Around the periphery of the device you'll find a mini USB port, 3.5mm headphone jack, on/off/lock slider, volume control and menu options control. All other commands are issued by pushing down on the screen, an on-screen icon letting you know what each press will do in any given circumstance.
The Spark's menu layout is a model of common sense. Pressing the top or bottom of the screen lets you scroll through Music, Pictures, Recordings, Folder View, Personalize, Settings and Last Played/Now Playing. Simply push the right-hand side of the screen to move down a level or activate a function or push the left to move back. The screen press is nicely weighted with just the right amount of 'click', making for a pleasant tactile experience.
During playback, the screen can be set to show the relevant album art as background or you can dig about in the personalisation menu and set it to display a photo from your collection, which is a nice touch. Various plain colour backgrounds are also available if you just want to read the on-screen track information and are not concerned about pictures.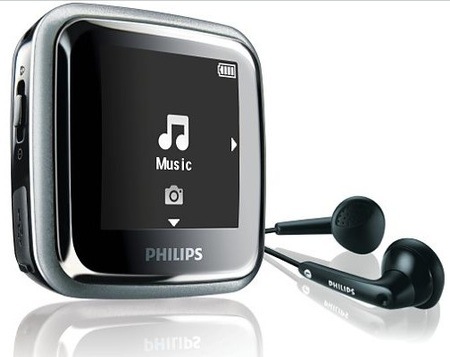 Controlled with screen-bezel clicks
The Spark comes fitted with something called "FullSound", Philip's latest take on sound modification technology and designed to make compressed audio files sound less like – you guessed it - compressed audio files.
After listening to a few albums, it became quite clear to us that FullSound is really rather good, giving a feeling of warmth and depth all too often lacking from cheaper media players such as the budget USB players from Samsung and Sony that we looked at recently.
Sponsored: Minds Mastering Machines - Call for papers now open