Discovery docks with ISS
No bat on board, sadly
Space shuttle Discovery yesterday docked with the International Space Station at 17:20 EDT (21:20 GMT), delivering the final solar arrays and associated truss segment to the orbiting outpost.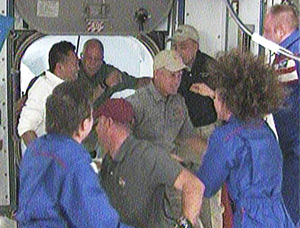 The STS-119 mission crew, comprising Commander Lee Archambault, Pilot Tony Antonelli, Mission Specialists Joseph Acaba, John Phillips, Steve Swanson, Richard Arnold and Japan Aerospace Exploration Agency astronaut Koichi Wakata were greeted by by station's Expedition 18 team of Mike Fincke, Yury Lonchakov and Sandy Magnus. Wakata will remain on the ISS at the end of Discovery's 13-day mission, while Magnus has booked a seat for the return flight to Earth.
Today's business centres around using the shuttle's robotic arm to extract the truss from Discovery's cargo bay and transferring it to the ISS's mechanical arm. Installation of the truss is scheduled for tomorrow, after which the arrays can be bolted on, upping the station's total available power to between 84 to 120 kilowatts of electricity.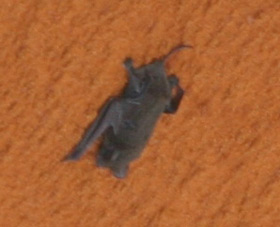 Back on Earth, meanwhile, NASA has confirmed that the bat seen clinging to the shuttle's external fuel tank during launch (see pic) was still hanging on for dear life as the vehicle cleared the tower and "likely perished quickly during Discovery's climb into orbit".
The agency elaborates: "Based on images and video, a wildlife expert who provides support to the [Kennedy Space] center said the small creature was a free tail bat that likely had a broken left wing and some problem with its right shoulder or wrist."
There's more on the unfortunate bat here, while you can find the STS-119 overview here, more detailed info on the mission here (pdf), and the latest ISS news here. ®
Sponsored: Minds Mastering Machines - Call for papers now open