How to backup and restore your netbook
Duplicate your OS, updates, apps, documents, the lot
Two more questions need to be answered before PING's ready to back up your system: which utility do you want to use to create the archive, and would you like to minimise the file system? Stick with the default settings for both: the 'Partimage' option first and, on the following screen, 'No'.
Finally, PING will do its stuff, and you'll get a screen displaying the progress of the backup process, after which your netbook will shutdown or restart depending on the choice you made earlier.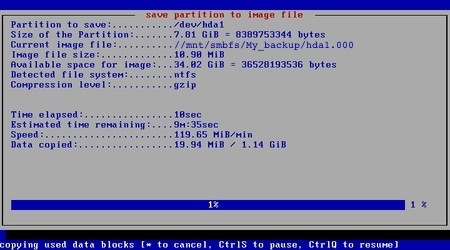 With the back-up safely tucked away, you're ready for any emergency. Should it become necessary, just connect the backup disk to your netbook and boot the machine from the PING disc again, but this time select the recovery option on the 'Choose the partitions...' screen: "### CHOOSE THIS if you want a RESTORATION ###".
The process is straightforward: select the (connected) disk containing the backup then select the drive on your netbook. Select the location of the My_Backup folder on your external drive - remember we chose \ - then pick 'My_Backup' from the list of folders PING presents.
You'll next be asked if you want to restore your Bios settings - try it without first, so select 'No'.
Finally, PING will give a long warning screen that tells you what it's about to do. If you're happy to proceed, type YES when you see the >> prompt, and PING will restore your netbook's drive from the backup.
Because the backup preserves the exact contents of your drive, you won't have to reload the operating system, re-install applications and apply all the updates you've installed over time. That gives you the opportunity to try out alternative operating systems, safe in in the knowledge that you can get back to where you were fairly quickly if the new OS doesn't work out.
PING wasn't designed for netbooks, which is why it's expected to operate from an optical disc. Blogger and Acer Aspire One fan Macles put together an alternative utility which is designed to be installed on a USB hard drive or Flash stick that will also be used to store the back-up.
Like PING, AA1Backup compresses the duplicate. If there isn't room on the drive, AA1Backup will let you know, but only when it detects it has run out of space. Better, we think, to make sure your disk is big enough to start with. AA1Backup is tiny and, with compression, you should easily be able to copy your netbook's drive onto a same-size USB stick or HDD.