Lenovo 'Vaio P clone' not a Vaio P clone, claims Lenovo
Pocket Yoga designed two years ago, firm insists
When a picture of a pocket-sized widescreen Lenovo netbook emerged recently, we suspected the firm had simply decided to follow in Sony's footsteps. But Lenovo has claimed it designed its machine long before the Vaio P was introduced.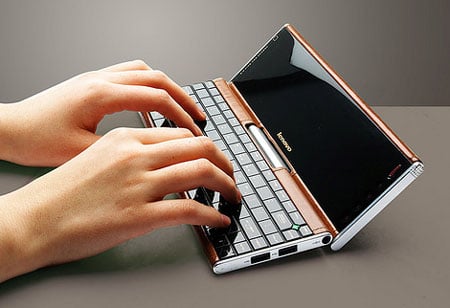 Lenovo's Pocket Yoga: designed two years ago, apparently
Johnson Li, Director of Lenovo's Beijing Innovation Center, claimed on a company blog that the firm developed its "pocket-sized PC" two years ago.
This timescale, at least according to Lenovo, puts the machine "well before the current netbook craze" started and way ahead of "the introduction of a similar form-factor by one of our competitors".
Li said the pocket-sized PC is called Pocket Yoga, a name the firm decided on thanks in part to the bendy exercise practiced by one of the netbook's New Zealand-based designers.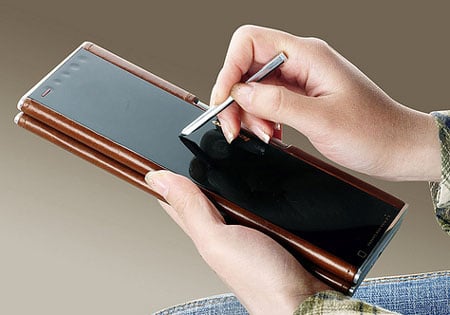 The pocket-sized PC can hold several yoga positions
The PC is still, sadly, just a concept and the photograph leaked recently only came to light because someone snuck it out of the firm's Beijing design studio, Li alleged.
However, Li's now released a very juicy set of Pocket Yoga images and given punters some insight into the concept's potential features, which start with leather cladding and a possible detachable keyboard – although the latter isn't pictured.
Pocket Yoga has several opening positions. The "normal angle" allows it to be used as a laptop, while folding the top cover back to the base turns the machine into a tablet where you can "read, draw with the special pen, or surf the web".
The belt that wraps around the machine also detaches and turns into a mouse.
Lenovo said its Yoga netbook experiment is now finished, which could either mean that plans to produce it have been canned or, conversely, that all the ground work's completed and that a launch isn't far off. We're hoping for the latter… ®
COMMENTS
Re: It's horrid
Pretty much, yes. Horrid to look at, and will be horrid to use with that ridiculous screen. Yes, we want small netbooks (the move to ever bigger ones is driven by manufacturers looking to standardise components with their full-size laptops and cut costs while charging more) but vertical resolution will always be a bugbear of the smaller models, and this the worst of the lot.
It's horrid!
That is all...