Apple Mac Mini (Early 2009)
Is this modest upgrade enough to save the Mini?
The only problem is that the price of the Mini is still steadily moving upwards, in exactly the same way as the prices of the latest MacBook and iMac models. A price tag of £649 for a 2GHz computer that doesn't even include a monitor isn't exactly a bargain these days, so the £499 model is probably better value for money, even after spending £40 to upgrade the Ram to 2GB.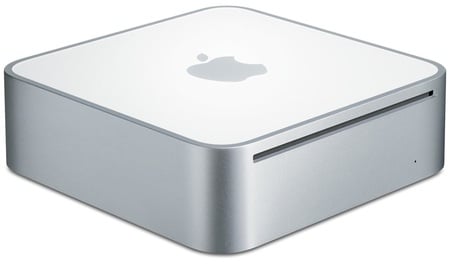 Looks good next to your telly or on your desk
That's still a bit more expensive than a small form-factor PC such as Dell's Studio Hybrid, which costs £449 with 2GHz processor, 2GB of Ram and a 250GB hard disk. However, the Mac Mini compensates with faster memory and frontside bus, as well as a more powerful graphics processor than the Studio Hybrid, so it's not outrageously over-priced.
Yes, how many Dollars you get for a Pound has changed, and that's largely responsible for Apple's price increases. But if the upshot - however benign the intention - is Apple kit looking rather more expensive than rival products, it'll put off many buyers who might otherwise have made the switch from Windows.
If you're thinking about switching from an old PC to a Mac for the first time, or have an ageing Mac that needs to be upgraded, then the £499 version of the Mac Mini is still a very good option – as long as you've got a decent monitor, keyboard and mouse that you can use with it. It's more than capable of running office software such as Microsoft Office or Apple's iWork suite, as well as handling a spot of video-editing in the bundled iMovie software.

Display, mouse and keyboard not included
The £649 model would be a lot more tempting if it had the 2.26GHz processor as standard. Let's face it – keeping the same processor speed for almost two years doesn't exactly suggest that Apple is putting its best foot forward with the Mini.
Verdict
Hopefully, this latest update will prove that there's still some life left in the Mac Mini. However, it's a shame that Apple doesn't really take off the brakes and allow the Mini to fulfil its true potential, even at the risk of challenging the almighty iMac. ®
More Mac Reviews...
| | | | |
| --- | --- | --- | --- |
| iMac 24in (Early 2009) | MacBook Pro 17in (March 2009) | MacBook Pro 15in (Late 2008) | MacBook (Late 2008) |
Sponsored: Minds Mastering Machines - Call for papers now open

Apple Mac Mini (Early 2009)
The £499 model isn't at all bad, but the £649 model is definitely overpriced.
Price:
£499 (1GB Ram, 120GB HDD) £649 (2GB Ram, 320GB HDD) RRP