Apple Mac Mini (Early 2009)
Is this modest upgrade enough to save the Mini?
The increasing popularity of laptop systems in recent years meant that the Mini was sidelined even further, and admirers of the Mini soon began to fear for its life. Yet, the Mac Mini is still here and has just received its first proper upgrade in almost two years. It's not the most adventurous of upgrades, but hopefully this means that game's not yet up for the Mini.

Externally, only the port array has changed with this update
Externally, the new Mac Mini is virtually identical to all its predecessors. The entire system is crammed into a square aluminium block measuring just 163mm (6.5in) wide and deep, and a mere 50mm (2in) high. However, there are a few interesting changes among the assorted interfaces and connected tucked away on the back of the unit.
There's an additional USB 2.0 port, which takes the total to five. We were quite pleased to see that the old Firewire 400 port has now been upgraded to Firewire 800, and interested to note that the Mini now has two separate video ports. The original DVI connector has been shrunk down to a Mini DVI – and, thankfully, there's a Mini DVI adaptor included in the box - unlike the pricey new 17in MacBook Pro - so that you can still connect it to an ordinary DVI monitor if you want to.
Apple has also found room to squeeze in the new DisplayPort interface that it uses with its new 24in Cinema monitor. You can even use both video interfaces to connect two monitors to the Mini at the same time. If you don't want to spend £635 on the Cinema monitor you can get a DisplayPort-to-DVI adaptor for £20, and use two DVI monitors, which might well come in handy in a few showrooms or boardrooms.
Gigabit Ethernet and digital audio input and output round out the connectors at the back, and there's also 802.11n Wi-Fi and Bluetooth 2.1 wireless tech built in as well.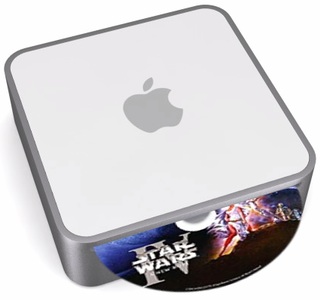 Movie time
The previous Mac Mini was available with either 1.83GHz or 2.0GHz Core 2 Duo processors, and cost £399 and £499, respectively. The £399 model has now gone altogether, while the £499 model remains in place with the same 2.0GHz processor, 1GB RAM and 120GB hard disk as before. That's not much of an upgrade, obviously, although the new model does increase the frontside bus speed from 666MHz to 1066MHz, and uses faster DDR 3 Ram.
Sponsored: Minds Mastering Machines - Call for papers now open