Microsoft's R&D chief: the people problem with innovation
iPhone's secret father speaks
The patent question
Microsoft unlike some companies in the tech sector puts a lot of value in R&D. That doesn't make the work any easier, though. Working on new ideas takes courage to commit from an early stage to something people may not yet get or that seems relatively unimportant, according to Rashid.
"You have to have courage especially in the beginning," Rashid said.
"In the beginning, you don't know what's going to work. We've been going almost 18 years and get feedback from all parts of the company saying: 'You guys are doing great stuff,' but the problem is that's at the end of the pipe - they are seeing stuff the researchers were first thinking of years ago. Once the pipe's full this is great, but in the beginning the pipe is not full and that's what takes courage and some suspension of disbelief."
Interestingly for someone who's chalked up a fair number of his own patents, and who works for a company infamous for its love of patents, its desire to make money from those patents and willingness take others to court to enforce its patents, Rashid seems to depart from the party line on the actual value of patents.
He thinks patents are a poor way of measuring the rate of innovation or progress. That quickly became clear during a Churchill Club debate hosted by Microsoft at its campus last week about the importance and role of R&D during the current economic "crisis."
Rashid disagreed passionately with fellow panelist Josephine Cheng, a vice president and research fellow with patent hits factory IBM. Microsoft is trying to compete with IBM on how many patents it can register, while IBM actually rewards its staff for filing patents.
Remonstrating with Cheng, who'd said patents are one yardstick for measuring the rate of innovation, Rashid said: "No, that's a horrible metric. The number of patents is a measure of how much you want to spend on lawyers!"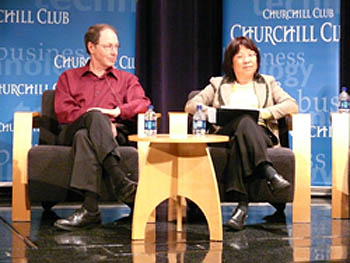 Rashid to Cheng: patents a "horrible metric"
Also, throwing wads of cash at a problem is not just shortsighted when it comes to the subject of encouraging innovation, Rashid believes it can actually hurt progress. Rashid said his pet peeve is the earmarks that are common in the US government, where politicians attach to legislation spending on projects they have a vested interest in for their district.
The problem is that while earmarks might mean money for technology in the short term on special projects, such as a research facility in West Virginia or Southern California, they do not represent long-term investment or commitment.
"We've done things in the past, where we made large investment, say, for example, in aerospace and we've just stopped, and as result a lot of people said: 'I gotta find a job somewhere'. And as a result you lose a generation of people, then 10 years later you say: 'Hey is there anybody here knows how to solve this problem?,' and the answer is 'no', of course, because everybody's left."
Rashid hopes the new Barrack Obama administration will change things at a national level and also invest in innovation through the stimulus package by setting out a long-term plan of sustained spending in science and technology. Healthcare looks like being one particular beneficiary.
The challenge lies in breaking the cycle, by getting people to stop accepting the money in the first place and to invest time and effort, even if the technologists can't clearly see where their work will head.
"When I went to Microsoft and started at Microsoft research everybody understood that would be along term commitment," he said. "Science isn't like building roads or bridges. It's really about trying to reward the smartest people," he said. ®
Sponsored: Minds Mastering Machines - Call for papers now open