Apple preps Jobsian magic wand
Putting the TV in Apple TV
Rotating, typing, drawing, and flashlighting
If an image is selected, the wand could be rotated and its motion sensor would transfer that rotation information to the media system, which would rotate the image to the same degree. The same motion-sensing capability could be used to drag an image across the display, move it into a boundry box for cropping, or zoom in and out by moving the wand towards or away from the display.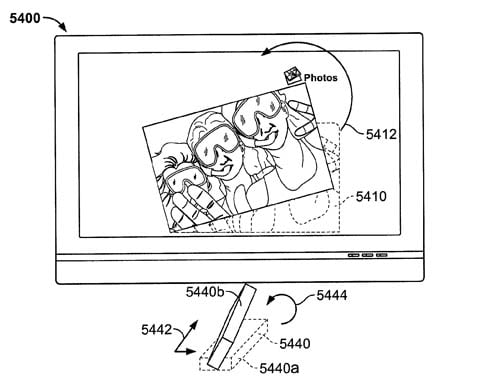 Rotate the wand, and your image rotates right along with it
Another application could enable a keyboard - either QWERTY or alphabetical - which the wand could use to type in such info as media names for searches or passwords for media purchases.
For that matter, it could also be used to enter parental control passwords so you could watch those "special" videos after Junior has gone beddy-bye.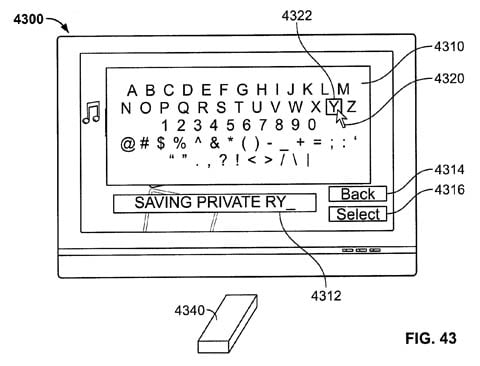 Think of it as typing with one virtual finger
When functioning as a simple cursor, the wand could be used to select editing and drawing tools in a image-editing or drawing application.
Essentially, anything that a cursor can do, the wand can do - with the addidtion of movement not only on the X and Y axes, but also on the Z.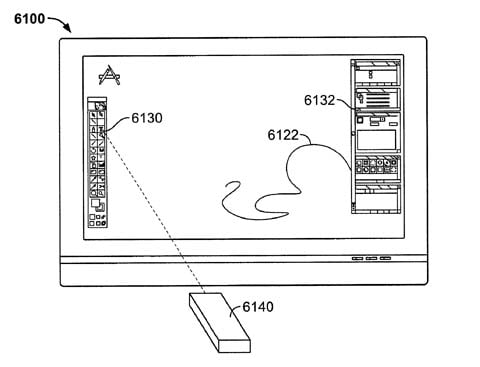 Whatever a cursor can do, the wand can do - such as drawing
Perhaps most interesting mong the filings imagined applications is what it refers to as the "flashlight." When this app is launched, the wand directs an imaginary "beam of light" onto the display - the area thus virtually illuminated remains bright, while the remainder of the display darkens. In this mode, the flashlight can illuminate and select various interface elements.
When the wand is tilted, aimed up or down, or moved closer to or further from the display, its "beam" reacts accordingly, changing its shape and size - even adding a dimmer shadow effect in the illuminated section further from the wand.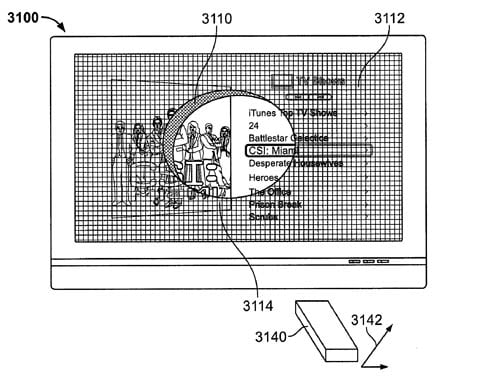 The wand can act as a virtual flashlight
One odd varient of the flashlight effect is its exact opposite - the "beam" sent by the wand darkens the screen rather than illuminates it. Exactly what purpose this oddball effect is meant to accomplish isn't clear. Maybe it there just because it's possible.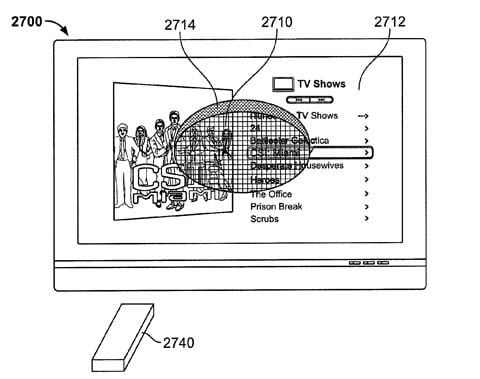 Think of this flashlight mode as a light-sucker
Other more-gestural wand capabilities are also described, such as rapidly flicking the wand to activate certain features or to turn the media system off. Game-playing is also a natural candidate, as Nintendo's Wii has proven - but games would be, as Apple would put it, a "third-party opportunity."
All-in-all, the remote wand as described in patent application #20090066648 is a giant leap beyond the capabilities of the current Apple Remote.
Especially if it were to be shipped for free along with a 52-inch LCD Apple television. ®
Sponsored: Minds Mastering Machines - Call for papers now open