Rogue international 'M&A advisors' target Brit ISP customers
FSA warns on 'Recovery Room' cons
Welcome to the Recovery Room
In a Recovery Room fraud, scammers identify a collapsed or worthless company — in Totalise PLC's case a company that no longer exists. The fraudulent firm obtains a publicly available list of shareholders and creates the appearance of a credible company. A call centre filled with "brokers" then sets about contacting the people who thought their shares were worthless with the news a mysterious buyer wants them and is willing to pay a handsome price.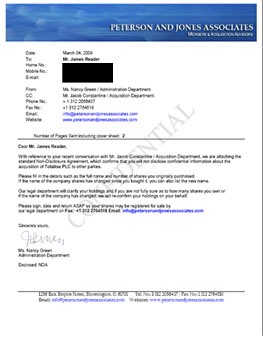 Top secret NDA
All the shareholder needs to do to capitalise, they're told, is pay an arrangement fee, or insurance deposit. Of course, they'll never see their fees or hear from their mysterious buyer again.
If the Recovery Room sounds familiar, it should. It is in essence a higher budget, more targeted version of a Nigerian 419 scam. It's also a sister con to the Boiler Room, which uses similar tactics to pump and dump junk stocks.
Often, financial investigators say, the Recovery Room is used as a follow-up by Boiler Room gangs to squeeze more cash out of their victims. Unlike the stocks typically promoted by Boiler Rooms, however, Totalise PLC was a legitimate venture, if misguided.
Reputable companies offering share-dealing services to UK customers from overseas are registered with the Financial Services Authority (FSA). Like FINRA, when contacted, the FSA said it has no record of Peterson and Jones Associates.
"Our advice if you're contacted would be to hang up straight away," Abi Jones, the FSA's spokeswoman on financial crime warned. "Our advice is that you don't deal with companies that aren't registered. There's a huge probability you're going to lose your money."
She said the fraudsters' addresses are typically fake and they use call forwarding services to obscure their true location.
When contacted by telephone on Tuesday, Peterson and Jones Associates declined to comment. The quality of the line was poor and there was high latency. The man who answered the phone asked us who was dealing with the purchase of our shares — when we explained we were making journalistic inquiries another man took over the call. Both men had Eastern European accents.
Asked repeatedly why the firm was not registered with US or UK authorities, and why no record of it exists in Illinois, the second man said: "Are you an educated man? Are you doing well in the market?"
He continued by suggesting we should do more research before calling Peterson and Jones Associates. Asked again why the firm was unregulated and unregistered he said, "I don't have time for this," and hung up.
Regulators expect the Recovery Room con to thrive as the recession takes down more publicly traded firms. The FSA wrote to 11,000 people in December warning them overseas share fraud gang activity was increasing. It seems the erstwhile shareholders of the mostly forgotten Totalise PLC were not on that list. ®
Update
Reg reader Owen writes (see comments) that the website of JR Hoffman and Associates, a "mergers and acquisition" firm purporting to be based in Montreal, Canada, is virtually identical to Peterson and Jones Associates' site.
Could the two be related? They certainly do appear to share a common ancestor. Marketing copy on both websites is the same as on that of Terranova Capital Partners, a legitimate New York investment firm.
Sponsored: Minds Mastering Machines - Call for papers now open