Hydrogen leak grounds Discovery
Launch no sooner than Sunday
NASA yesterday aborted the scheduled launch of space shuttle Discovery after a leak in a gaseous hydrogen vent line.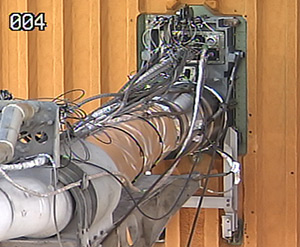 Launch Director Mike Leinbach explained yesterday that "the leak developed on the piping that runs from the fixed service structure, or launch tower, to a valve at the intertank section of the shuttle's external tank" (see pic).
The agency elaborates: "The pipe moves hydrogen gas away from the shuttle and to a flare stack near the launch pad that burns it away safely. He said there was never any danger to the shuttle while it was being fueled, but that the leak allowed too much gaseous hydrogen to escape the vent line."
NASA notes that an inspection of the line later today "could set a course for repair options that would allow another launch attempt as soon as Sunday".
Discovery's STS-119 mission to the International Space Station will deliver the final solar panel arrays to the orbiting outpost providing a total of 84 to 120 kW of juice - an output which will "double the amount of power available for scientific research" ahead of the planned 2009 expansion of the crew to a permanent roster of six.
Kwatsi Alibaruho, the lead space station flight director for the mission, explained: "More crew means that we'll have to run more life support equipment, more crew support equipment – toilet facilities, water processing equipment and all of that stuff. We'll have to run more of all of that, so we need additional power."
The installation of the arrays (highlighted in crew pic, below) requires the bolting on of the "S6" truss ("S" for starboard, the right side of the station, and "6" for its place at the very end of the starboard truss). NASA explains: "To install it, the station's robotic arm must extend its reach just about as far as it will go, leaving it with very little room to maneuver. The same was true of its mirror image on the port side of the station – the P6 truss segment – so the crew expects to be able to pull it off without a hitch. But that doesn't mean it will be easy."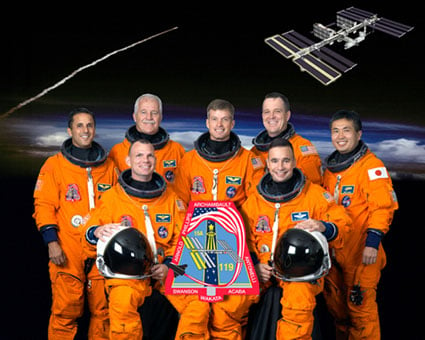 On board for the 14-day mission, which includes four planned spacewalks, will be Commander Lee Archambault, Pilot Tony Antonelli (above, front row, left and right) and (back row, left to right) Mission Specialists Joseph Acaba, John Phillips, Steve Swanson and Richard Arnold. They're joined by Japan Aerospace Exploration Agency astronaut Koichi Wakata (back row far right), who'll remain on the ISS.
Expedition 18 Flight Engineer Sandra Magnus, who's been aloft since arriving on Endeavour's November 2008 STS-126 mission will return to terra firma with the STS-119 crew.
NASA has detailed mission information here (pdf). ®
Sponsored: Minds Mastering Machines - Call for papers now open