Science-boosting thickie questionnaire backfires
California Academy of Sciences flunks own poll
Updated A new survey has apparently proved that American scientific organisations, when it comes to scientific knowledge, are operating at roughly the intellectual level of cheese rind.
The latest watch-out-thickies-or-economic-doom-will-befall-us-all effort comes from the California Academy of Sciences. In a telephone poll of US adults, the following dire results appeared:
Only 53% of adults know how long it takes for the Earth to revolve around the Sun.

Only 59% of adults know that the earliest humans and dinosaurs did not live at the same time.

Only 47% of adults can roughly approximate the percent of the Earth's surface that is covered with water.

Only 21% of adults answered all three questions correctly.
The Academy, which "supports 46 world-class scientists and hundreds of researchers in 11 fields of study", sees this as evidence that science is being woefully neglected:
The American government has allocated hundreds of billions of dollars for economic bailout plans. While this spending may provide a short-term solution to the country's economic woes, most analysts agree that the long-term solution must include a transition to a more knowledge-based economy, including a focus on science ... Despite its importance to economic growth, environmental protection, and global health and energy issues, scientific literacy is currently low among American adults.
Actually there's no reason to believe that, based on this survey - in particular the bit about how much of the Earth is covered by water. If you take the online version of the poll at the Academy website, you are offered the options 61-70 per cent or 71-80. The "correct" answer - according to the poll - is 70. Quite apart from not genuinely offering the respondent any real chance to "roughly approximate" their answer, this is actually wrong.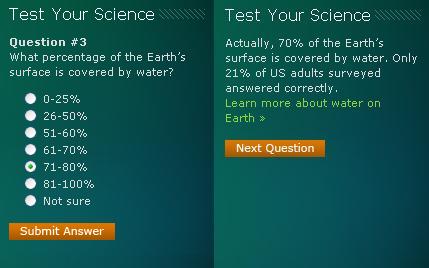 The level of scientific knowledge in America is shocking.
In fact, according to the US National Oceanic and Atmospheric Administration, "the ocean covers 71 per cent of the Earth's surface", so you ought to get it right by selecting 71-80, not 61-70. The online poll says "Only 21% of US adults surveyed answered correctly"; almost certainly something to do with the fact that the Californian Academy of Sciences apparently doesn't know the right answer.
So yes, it would appear that America is doomed to economic failure through lack of basic scientific knowledge. Among the scientists, though, not the general population. ®
Update
The online questionnaire has now been amended, of course.
Sponsored: Minds Mastering Machines - Call for papers now open