Have IT vendors been hit harder than IT departments?
Comment: Less hiring, more firing, but still a net gain
As you can see, the trend for IT staff hiring and firing is not moving in the right direction over the past two years. Here's the RHT data showing that: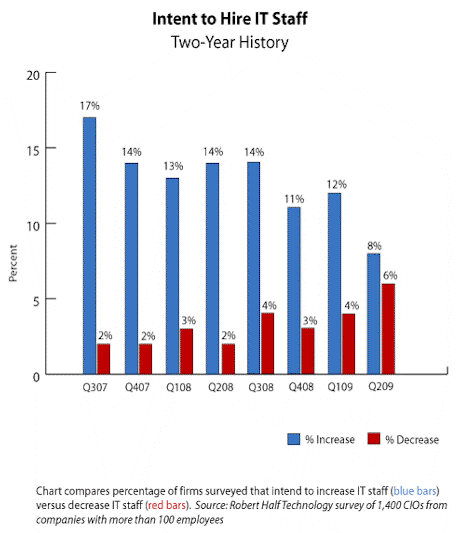 According to the latest poll, 21 per cent of the CIOs who said they will be adding IT staff (or about 1.7 per cent of the total pool of survey respondents) said they would be using a mix of full-time and project workers, and 8 per cent who said they would add people in Q2 2009 said they would only add contract workers.
Why are they hiring? About a quarter of the CIOs said "corporate growth" was driving IT hiring, while IT department expansion was cited by nine per cent; more workloads was cited as the reason by eight per cent of respondents, and another eight per cent said system upgrades was compelling them to hire staff. Help desk, technical support, network administration, and Windows administration are the jobs CIOs are trying most to fill.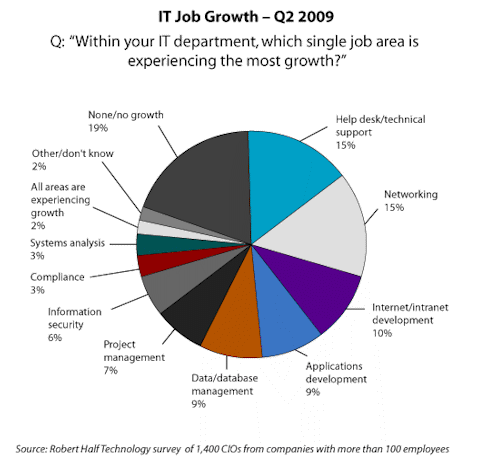 For those letting IT staff go, 40 per cent said it was due to IT budget cuts and 21 per cent blamed the effect of the financial crisis on their industry. It is hard for me to separate these two, since they are related. If you want to see the full arts and charts that RHT put out, go here and scroll to the bottom for links to the graphics that provide more details.</p
IT vendors have clearly shown that sales are dropping, particularly for PCs and servers, the basic infrastructure for IT. But thus far, US companies seem to be putting off IT purchases so they can do IT projects that help their businesses. This is encouraging, so long as all of the work doesn't end up overseas. Some of it will, of course. That's just the 21st century. ®
Sponsored: Minds Mastering Machines - Call for papers now open