Apple 17in MacBook Pro
How much battery life? How big a price tag?
More controversial, though, is the 17in Pro's the sealed-in, non-removable battery. Apple's argument here is that the various latches and other components required to house a removable battery take up extra space inside the chassis that could more productively be devoted to a larger battery. Getting rid of those components from the 17in MacBook Pro has allowed Apple to produce its own custom battery design that packs an admittedly impressive 12,820mAh capacity.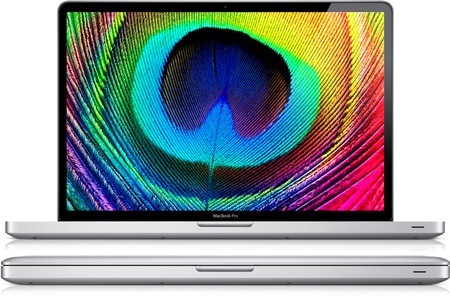 Stonking battery life
Apple claims that this battery can last for as much as eight hours, although that number comes with all the usual caveats that PC manufacturers rely on when quoting battery life. Even so, we had to admit that we were impressed by the battery life that we got from the machine. With wireless networking turned off and the screen brightness lowered to a perfectly watchable 70 per cent of maximum, we were able to play almost exactly five hours of H.264 video.
Less demanding tasks such as browsing the web and running Microsoft Office allowed us to keep going for just a couple of minutes short of seven hours. Those tests were conducted using the GeForce 9400M graphics processor, and you'll cut a good hour off those times if you switch to the more power-hungry 9600M GT, but it does seem as though there's some method to Apple's madness on this occasion. We also noticed that the base of the unit gets warm but not uncomfortably hot, so there's no noisy fan needed to keep things cool.
This isn't the first time Apple has locked the battery inside one of its laptop machines. The MacBook Air started that particular trend - and was roundly slated for it. However, the 6-7 hours of battery life provided by the 17in MacBook Pro is a much more attractive proposition than the 3-4 hour battery life of the MacBook Air. If, for some reason, you do need the ability to stick in a spare battery from time to time then the non-removable battery in this model may simply be unacceptable. But if you're merely looking for a powerful desktop replacement machine then the battery life of the 17in MacBook Pro will be more than adequate.

Verdict
A price tag of £1949 is enough to make even the most diehard Mac fan think twice. You could certainly get a similarly specified PC laptop for less – although features such as the Firewire port, twin graphics cards and the long-lasting battery do make direct comparisons difficult. If you just want a powerful Mac laptop then the 13in and 15in models undoubtedly offer better value for money. But then the 17in MacBook Pro is a niche product aimed at a relatively small number of Apple's creative users who specifically need that big screen display.
The real question, therefore, is whether this new model will tempt those users to upgrade from their existing machines. On that score, the new 17in model will probably succeed, as the twin graphics cards and unibody design correct the most obvious omissions in December's somewhat pointless update. The new long-lasting battery might also help to swing the decision if people think that it will genuinely allow them to get more work done when they're on the move. ®
More Mac Laptop Reviews...
| | | | |
| --- | --- | --- | --- |
| White MacBook (Early 2009) | MacBook Air (Late 2008) | MacBook Pro 15in (Late 2008) | MacBook (Late 2008) |
Sponsored: Minds Mastering Machines - Call for papers now open

Apple 17in MacBook Pro
An expensive option, even for Mac users, but the new long-lasting battery will make sure it earns its keep.