Apple 17in MacBook Pro
How much battery life? How big a price tag?
And, while you're noting down the cost of various added extras, you may need to earmark another £20 for an adaptor that will allow you to connect the MacBook Pro's DisplayPort connector to an external DVI monitor. Previous models included a number of display cables convertors, but this latest model includes nothing but its own power line. Cutting corners on a less expensive model such as the basic MacBook is one thing, but it puts your nose a bit out of joint when you're paying almost £2000 for a new laptop.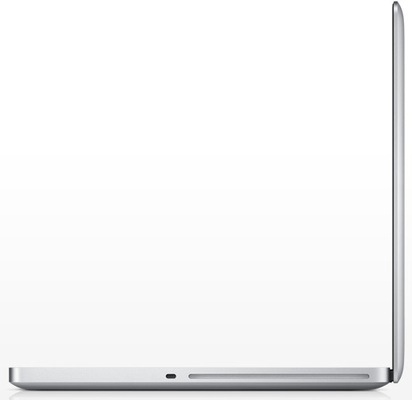 Yes, there's a 16x multi-format DVD burner - but still not Blu-ray
Cables and cosmetics aside, it's the internal redesign that has been attracting the most attention with this model. The good news is that the processor and graphics sub-systems have been updated so that the 17in MacBook Pro can match the performance of its 15in counterpart once more.
There's just a single version of the 17in MacBook Pro available off the shelf, priced at £1949. This now has a 2.66GHz Core 2 Duo processor, 4GB of DDR 3 memory, a 320GB hard disk running at 5400rpm, and the twin GeForce combo of the 9400M and 9600M GT. The frontside bus and memory speeds have both been increased to 1066MHz, compared to, respectively, 800MHz and 667MHz in the previous model, so there should be an extra little performance boost there as well.
That price compares with £1712 for the 15in model with a virtually identical specification - although the review model that we tested back in October actually ran at 2.53GHz, before being tweaked to 2.66GHz recently.
As you'd expect, the 2.66GHz processor in the 17in model allows it to nudge slightly ahead of the 15in" model running at 2.53GHz in terms of processor performance. There's a slight hiccup on graphics performance when using the GeForce 9600M GT in the 17in model, as it falls fractionally behind the same graphics processor in the 15in model - the higher resolution screen means it has more pixels to push in the bigger machine. However, the gap between the two is small enough to fall into the 'margin for error' category.

Svelte
If you're prepared to bust through the £2000 price barrier, there's also a build-to-order option on the Apple website that upgrades the processor to 2.93GHz for an extra £210, along with an optional 128GB solid-state drive for another £240. We also noticed that Apple's charging an exorbitant £800 to increase the memory from 4GB to 8GB – at least £200 more than it would cost to buy a similar 2x4GB kit online and install the new memory yourself.
Sponsored: Minds Mastering Machines - Call for papers now open