Apple 17in MacBook Pro
How much battery life? How big a price tag?
Take a sideways look at the slim profile and you'll see all the machine's interfaces and connectors sitting in a neat row on the left-hand side of the unit. There are three USB 2.0 ports and a Firewire 800 port, Gigabit Ethernet, DisplayPort, digital audio input and output, and an ExpressCard 34 slot.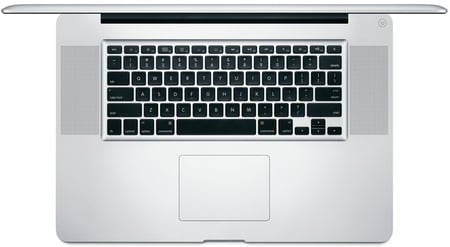 A really big - 5in - trackpad
Oddly, though, the thing that we noticed most about the outer appearance of this model was that it has a really big trackpad. It has the same button-less glass trackpad as the other new aluminium models, which allows you to 'click' items simply by pressing down on the surface of the trackpad itself, rather than using a separate button. But on this model the trackpad measures a full 125mm (5in) diagonally – an increase of 39 per cent, according to Apple – which means that you can click on it with one finger to select an item, and then still have plenty of room to use another finger to drag the item around the screen.
It's one of those things you have to try for yourself to appreciate properly, but we felt that this works particularly well with the increased size of the trackpad. The same applies to the option to set aside one corner of the trackpad to act as the 'right-click' button, as there's less chance of accidentally tapping the right-click corner by mistake now. The slightly concave shape of the keys on the keyboard feels very comfortable too, and you've even got the ability to adjust the brightness of the backlit keyboard when you're in a darkened room or aircraft cabin.
The most eye-catching feature, of course, is the 17in display. This LED-backlit screen certainly provides admirable image quality – bright, sharp and colourful - "60 per cent more colour!" Apple's executives told us gleefully, though on further questioning it appears that this was a reference to the display's colour gamut - and it has the glossy, reflective finish that is now standard across Apple's laptop range.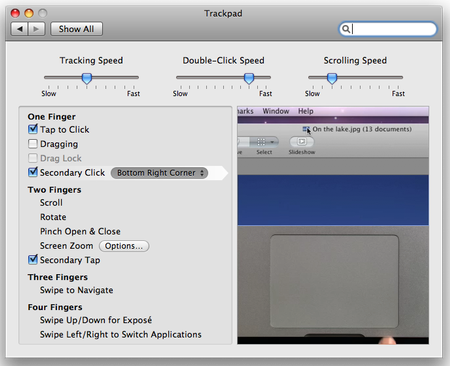 Earmark a section of the trackpad for right-clicking
We know that this drives some people to distraction – though we've never been overly concerned by it ourselves – and also annoys some professional users for whom colour consistency is an important issue. Apple used to provide an 'anti-glare' screen option at no extra price, but it claims there has been relatively little demand for it and now charges an extra £35 to have it installed.
Sponsored: Minds Mastering Machines - Call for papers now open