Drunk sorority girls quaff booze 'to impress boys'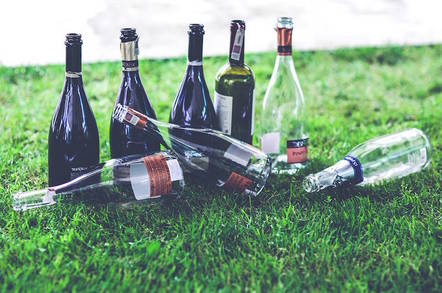 Researchers say that American college girls drink heavily in order to get the attention of the opposite sex, but that this is backfiring as US college boys actually prefer a less boozy ladyfriend.
"Women have steadily been drinking more and more over the last several decades," says Joseph LaBrie, psych prof at Loyola Marymount University, a Catholic college "rooted in the Jesuit tradition".
"Our research suggests women believe men find excessive drinking sexually attractive and appealing, but it appears this is a giant misperception," adds the prof. He cites previous research suggesting that college girls drink too much in order to impress college boys:
Participants repeatedly expressed that college men paid more attention, and found it more attractive, when a woman could match their drinking. In sum, subjects insisted that women who drink like men do not do so because they want to be like a man (in terms of male power), but rather because they want to be liked by men.
Labrie and his colleagues surveyed 3,616 heterosexual students online, asking girls how much alcohol they thought "a typical guy" would like his ideal female pash to drink. They were also asked "how many drinks they thought a woman would have to consume for a guy to consider being friends with her, consider dating her or consider her sexually attractive". Men were asked what levels of boozing they actually liked to see in a woman.
It seems that in fact US college chaps prefer a fairly cheap date, or at any rate a less thirsty one than the girls thought they would favour:
The results showed 71 percent of women overestimated the men's actual preference of drinks at any given event. The women overestimated by an average of one-and-a-half drinks. When the researchers looked at the different subgroups, 26 percent of women said that men would most likely want to be friends with a woman who drinks five or more drinks and 16 percent said that men would be most sexually attracted to a woman who drank that much alcohol. Both estimates were nearly double what the men actually preferred. They also found the women who overestimated the men's preferences were more likely to engage in excessive drinking.
"While not all women may be drinking simply to get a guy's attention, this may help explain why more women are drinking at dangerous levels," says LaBrie. The prof considers that if girls knew they didn't need to get blotto in order to catch the chaps' eye, they wouldn't drink so much.
He now plans a survey in the other direction, to see if the boys are actually only drinking so much because they think women find it attractive. The whole paper can be read here (pdf), for those interested in the behaviour of drunk college girls. ®
Sponsored: Minds Mastering Machines - Call for papers now open