Iomega Home Media Network
Promises more than it delivers?
But while the initial set-up process is very simple, further exploration reveals that the drive's multimedia capabilities aren't as extensive as the 'home media' name-tag might suggest. It doesn't have the custom interface of a device such as the Linksys Media Hub that provides preview and playback capabilities within the web browser. For the most part, you just have to browse through the disk's contents on your desktop and click on files to play them, just as you would with any normal NAS drive or external hard disk.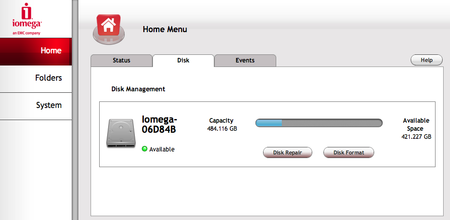 The browser-based configuration panel keeps things simple
The drive does support the DLNA networking standard, though, and is able to stream files to other DLNA devices, such as an Xbox or PS3. That said, it has been reported that the HMNHD's DLNA support isn't as strong as it might be, though Iomega has said it's looking into the claims.
The HMNHD can also act as an iTunes server, allowing you to play music files stored on the drive through iTunes on your computer. The iTunes Server option is activated by default when you first install the Home Network Drive, allowing the drive to automatically appear in iTunes' 'Source' list. However, we were somewhat surprised to discover that it can only stream MP3 files to play within iTunes, and that the AAC files that we copied on to the drive didn't show up in iTunes at all.
Iomega's support documents just tell you to convert other audio formats into MP3 – which isn't what you want to read when you've just spent 20 minutes copying 16GB of AAC tracks onto the drive.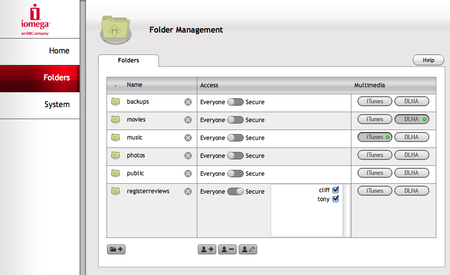 It's easy to set up shared folders
You can work around this limitation by telling iTunes to create its own set of library files on the Home Network Drive, rather than on your local computer. However, this means that people using your network can't just dump an assortment of music files and formats onto the drive and let the iTunes Server play them all for you.
Verdict
The multimedia features of the drive are pretty limited, and calling it a 'Home Media Network' drive merely seems a marketing ploy to make it sound more interesting than 'Bog Standard NAS Drive'. But, to be fair, if you do treat it as a bog-standard NAS drive then it's not at all bad. It's reasonably priced and very easy to set up and use. More experienced users might prefer something more sophisticated, but the Home Media Network Hard Drive will still be a good choice for the les geeky who just want a shared storage space. ®
More NAS Reviews...
| | | | |
| --- | --- | --- | --- |
| WD My Book World Edition 1TB NAS | Cisco Linksys Media Hub | Addonics NASU2 | WD ShareSpace |

Iomega Home Media Network
A decent - if unambituous - NAS drive, although its name promises more than it delivers.
Price:
£135 (500GB) £180 (1TB) RRP