Iomega Home Media Network
Promises more than it delivers?
There are folders for photos, music and video, and these are all set up as publicly accessible folders that are available to anyone on the network. These folders also show up as network drives under 'Network Places' on a PC, or as connected servers on the desktop of a Mac, so you can copy files to or from the drive without having to use the Home Storage Manager software at all if you want.
Single 8GB File Copy Results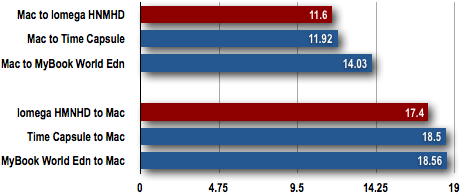 Speed in Megabytes per Second (MB/s)
Longer bars are better
To test the drive's performance we hooked it up to a Gigabit router from Belkin, along with a MacBook that was also equipped with Gigabit Ethernet. Its speed when transferring a single large 8GB file was adequate, although it wasn't quite as fast as rivals such as Apple's own Time Capsule or Western Digital's recently released MyBook World Edition. However, things picked up when copying a 20GB folder containing a large number of individual music and video files. In fact, it actually nudged ahead of the Apple and WD drives when copying the test files off the Mac.
In addition to the default folders that are already set up on the drive, the Home Storage Manager program also allows individual users on the network to create new folders for their own use. Just click on the Iomega icon in the Windows Taskbar - or the main Menu bar on a Mac - and select the 'Configure' option. This opens the drive's built-in web browser interface that gives you access to more detailed configuration settings.
Some companies make a complete dog's dinner of the business of setting up 'shares' on their NAS drives, but the HMNHD allows you to create new shared folders simply by clicking the 'Create' button and then assigning a name and optional password to the new folder. You can then just click on the 'Access' button to specify whether the contents of your folders are available to everyone, or just limited to specific users on your network.
Single 20GB Folder Copy Results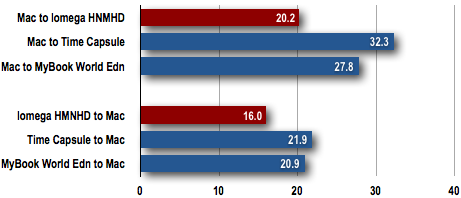 Time in Minutes
Shorter bars are better
The web browser interface also provides a number of other options, such as the ability to reformat the drive, adjust the brightness of the capacity gauge LED, or to shut the drive down remotely. However, Iomega has clearly decided to keep things as simple as possible, and there are few advanced options, such as the ability to create groups of users, or remote access across the Internet.