When it comes to performance, the Amilo's benchmark scores were decent, but nothing to write home about. It's CPU and Memory scores running PCMark05 put it among the fastest machines we've seen, but its hard drive performance was weak compared to the competition.
Our Gimp Gaussian Blur test proved no problem for the Amilo either - its scores was within 0.3 seconds of the fastest so far.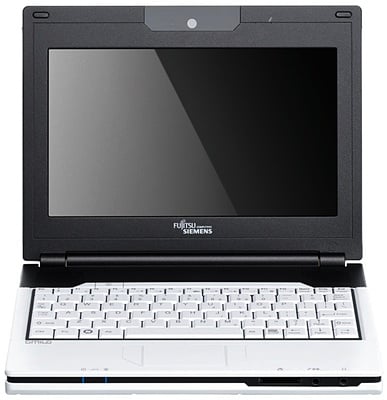 Decent but unexceptional performer
The Amilo offers two running modes: Silent, which throttles the processor and kills the fan, and Normal. However, running our standard battery test, which involves playing an H.264-encoded video on loop showed little difference between the two settings. With throttling turned on, it ran for 139 minutes, while with it disabled it lasted ever so slightly longer, at 145 minutes.
This is an extreme test as it involves setting the screen brightness to the maximum and decoding video is a processor intensive activity. In more real life usage, you could probably expect around four hours from each charge.
Verdict
If you like to keep your expansion options open, then the addition of an ExpressCard slot certainly makes the Amilo worth looking at and the ability to change coloured lids could be a bonus, depending on your personal preference. Its sub-£300 price tag is also quite appealing.
Its downsides, however, are its small display for the machine's overall size, slightly awkward keyboard and touchpad, and sub-par hard drive performance. While it can mostly keep up with the competition, the Amilo doesn't exactly stand out either, making it a decent, if not exactly exciting machine. ®
More Netbook Reviews...
| | | | |
| --- | --- | --- | --- |
| Lenovo IdeaPad S10e | Samsung NC10 | Toshiba NB100 | Dell Inspiron Mini 9 |

Fujitsu Siemens Amilo Mini UI 3520 netbook
Its ExpressCard slot, low price tag and non-glossy screen make the Amilo appealing, but it's let down by a small keyboard and poor hard drive.
COMMENTS
Shiny screen...
zero points
I want to see what's on the screen, not my reflection.
Mouse buttons
Why can't laptops have three buttons, most mice have a scroll wheel after all. My 701 is a pain to use with the MMB setup to be left and right click simultaneously, this would be even worse with the buttons either side of the pad.
My FS AmiloA1630 had these problems...
1. screen went blank when I picked it up
2. LHS speaker failed
3. memory card reader corrupted transfered files
4. CD/DVD write failed
5. hard drive failed
6. only one of the 3 USB ports is USB 2.0 (they are all supposed to be)
7. and most recently XP has developed Altzeimers & forgets stuff (on a clean instal!)
Other than these little niggles it's a great machine and I look forward to giving FS my next load of hard earned cash (I don't think).
@W
"identikit laptots"
For some reason this brings to mind Octomom's offspring.
SD read speed
I believe many of today's laptop still deliver sub-par performing SD card readers. They manage 1 MB/s - 2 MB/s tops. They _should_ deliever ten times that speed.
My old Fujitsu wasn't only slow (reading SD cards) but also consumed 100% CPU power.
So I am very interested in learning about reader speeds with the latest generation of laptops and netbooks.