Wireless connectivity runs to both Bluetooth and 802.11b/g - if you want 3G or 802.11n then you'll need to plug in some extras.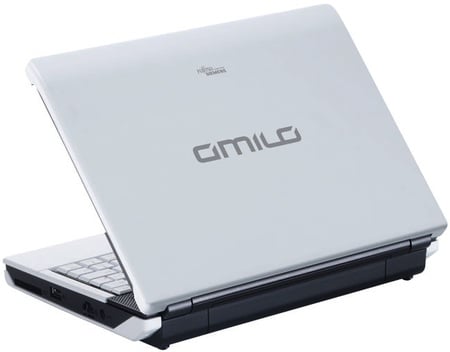 Netbook-standard spec
Speaking of which, you only get two USB ports, which is a little on the stingy side given that most netbooks pack at least three, but at least they're positioned on opposite sides so you can have some say in where you want to put your peripherals.
You'll also find a VGA connector on the left, and Ethernet and power on the right-hand side. Fujitsu Siemens has also included a ExpressCard 34 slot, something you don't normally find on machines of this size, but which is handy if you don't like HSDPA dongles stuck onto the side of your machine.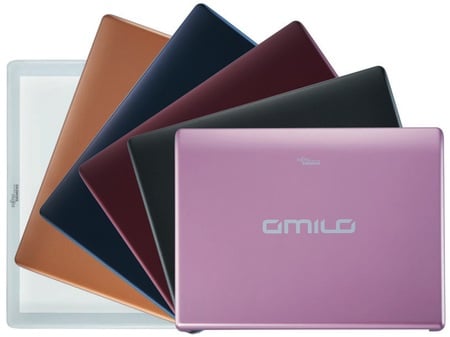 Colourful covers
Round the front are the usual status LEDs, plus headphone and microphone sockets, and a memory card slot which will accept SD, SDHC, Memory Stick, Memory Stick Pro and MMC devices. One thing to note, however, is the slot doesn't swallow the card whole. An SD card, for example, protrudes from the machine by around 15mm - so it's not really suitable for use as permanent solid-state storage.
Battery Life Results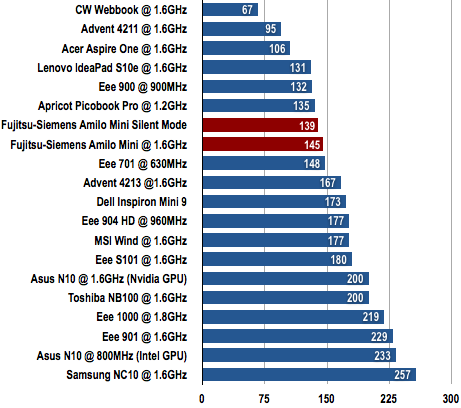 Battery life in minutes
Longer bars are better
COMMENTS
Shiny screen...
zero points
I want to see what's on the screen, not my reflection.
Mouse buttons
Why can't laptops have three buttons, most mice have a scroll wheel after all. My 701 is a pain to use with the MMB setup to be left and right click simultaneously, this would be even worse with the buttons either side of the pad.
My FS AmiloA1630 had these problems...
1. screen went blank when I picked it up
2. LHS speaker failed
3. memory card reader corrupted transfered files
4. CD/DVD write failed
5. hard drive failed
6. only one of the 3 USB ports is USB 2.0 (they are all supposed to be)
7. and most recently XP has developed Altzeimers & forgets stuff (on a clean instal!)
Other than these little niggles it's a great machine and I look forward to giving FS my next load of hard earned cash (I don't think).
@W
"identikit laptots"
For some reason this brings to mind Octomom's offspring.
SD read speed
I believe many of today's laptop still deliver sub-par performing SD card readers. They manage 1 MB/s - 2 MB/s tops. They _should_ deliever ten times that speed.
My old Fujitsu wasn't only slow (reading SD cards) but also consumed 100% CPU power.
So I am very interested in learning about reader speeds with the latest generation of laptops and netbooks.