The 8.9in screen is surround by a large bezel, for example, and there's easily sufficient additional space for a 10in display instead. The keyboard spans the majority of the width of the machine, but at only 80mm deep it occupies less than half the available space. This results in cramped keys and makes mistypes with letters on the lines above and below much more likely. You'll need fairly small fingers and a good bit of practice to get anywhere near full typing speed.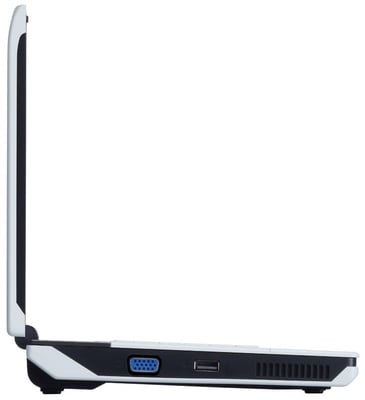 One less USB port than usual
The touchpad is also pretty small - 50 x 30mm - although as it's quite responsive it's still reasonable to use. Unfortunately, Fujitsu Siemens has taken the concept of left and right buttons a little too literally and placed them either side of the touchpad, rather than below. On a small machine like the Acer Aspire One, that's a compromise that makes sense, but here there's room to put them in the proper place.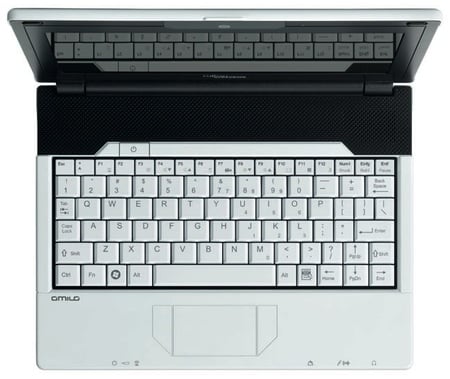 There's definitely room to place the touchpad buttons correctly
A design feature also means that the bottom corner of each button has been cut off at a 45-degree angle, making them even more difficult to use. Thankfully you can tap on the touchpad for a left click, but for right click you'll find yourself hitting the bottom edge of the laptop before remembering there's no key there.
The display runs to a netbook-standard resolution of 1024 x 600 pixels and reflecto-phobes will be happy to know it's a non-glossy display so you don't need to worry about seeing lights behind you reflected back on screen. The trade off for this is less intense colours, though.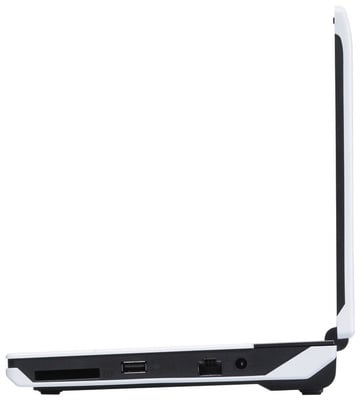 ExpressCard 34 slot, anyone?
There's no prize for guessing that it packs a 1.6GHz Intel Atom N270 processor and 1GB of DDR 2 Ram. Fujitsu Siemens has stuck with traditional spinning disks rather than a solid-state drive for storage, which means higher capacities, but it's more susceptible to damage if you bash it around too much. The review model came with a 60GB drive, but £10 more gets you an 80GB unit. There's also a 120GB model in the pipeline, but pricing has yet to be decided for that.
COMMENTS
Shiny screen...
zero points
I want to see what's on the screen, not my reflection.
Mouse buttons
Why can't laptops have three buttons, most mice have a scroll wheel after all. My 701 is a pain to use with the MMB setup to be left and right click simultaneously, this would be even worse with the buttons either side of the pad.
My FS AmiloA1630 had these problems...
1. screen went blank when I picked it up
2. LHS speaker failed
3. memory card reader corrupted transfered files
4. CD/DVD write failed
5. hard drive failed
6. only one of the 3 USB ports is USB 2.0 (they are all supposed to be)
7. and most recently XP has developed Altzeimers & forgets stuff (on a clean instal!)
Other than these little niggles it's a great machine and I look forward to giving FS my next load of hard earned cash (I don't think).
@W
"identikit laptots"
For some reason this brings to mind Octomom's offspring.
SD read speed
I believe many of today's laptop still deliver sub-par performing SD card readers. They manage 1 MB/s - 2 MB/s tops. They _should_ deliever ten times that speed.
My old Fujitsu wasn't only slow (reading SD cards) but also consumed 100% CPU power.
So I am very interested in learning about reader speeds with the latest generation of laptops and netbooks.