Slash your way inside Apple's Mac Mini
Putty knife adventure
Opening the new Mac Mini, as was true with its previous incarnations, takes mildly inflated cojones. To do so requires that you insert a putty knife between the case and the bottom housing and pry up the innards, bit by bit, moving around the case.
We strongly suggest that you read iFixit's full instructions before attempting this and any further disassembly - and if you break something, don't come crying to us.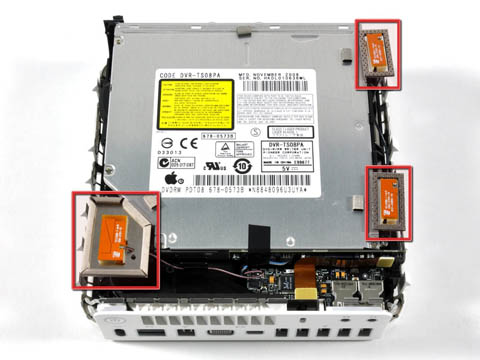 Two antennae on the right for MIMO 802.11n, one on the left for Bluetooth
Once you remove the case, you'll see three antennae. You'll need to remove them before you can go any further in your disassembly efforts.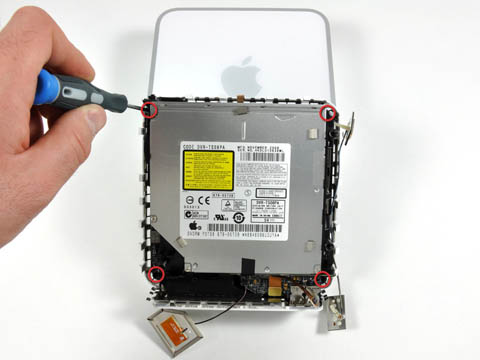 Black screws in a black case are hard to spot
Four well-hidden Phillips screws fasten the Mac mini's internal frame to the bottom housing. If you want to go further - if, for example, you're in there to install RAM, swap your hard drive, or perform an optical-drivectomy and add another hard drive - you'll need to remove them, then separate the bottom housing from the frame.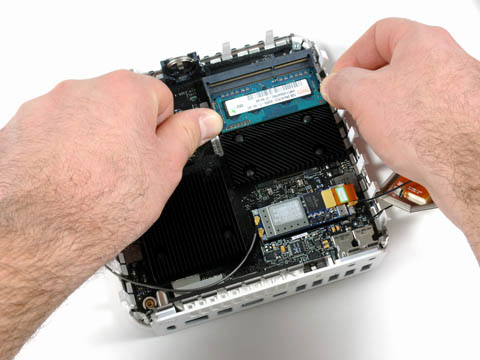 RAM is easily installed in the bottom housing (hairy forearms not essential)
The bottom housing contains the Mac mini's logic board and SO-Dimm slots. Swapping Ram is as easy as, well, swapping Ram - there are two SO-Dimm slots that support up to 4GB of 1066MHz DDR 3 SDRam Swapping the CPU is different matter - it appears to be soldered in place.
The other half contains the hard drive and optical drive, both of which as simple to remove and replace - simple, that is, if you follow the instructions.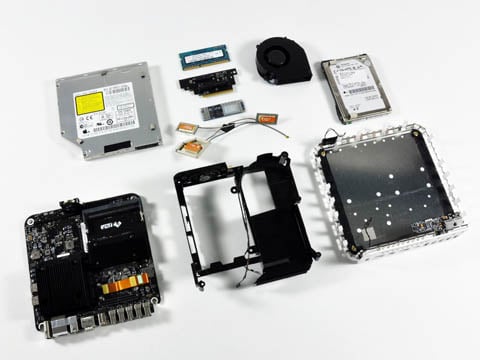 Now it's time to put it all back together again
The iFixit folks call this disassembly "a lot simpler than the iMac." The first time we did it, however, the putty-knife step was nerve-wracking - we greatly prefer good old-fashioned screws over plastic pressure-clips. Your mileage - and cojones - may vary.
Still and all, Apple engineers managed a slick bit of manufacturing design to fit all of the Mac Mini's components into its 2 x 6.5 x 6.5in (5 x 16.5 x 16.5cm) body. ®
Photos produced with permission from iFixit.
Sponsored: Minds Mastering Machines - Call for papers now open