Apple's Snow Leopard set for June 8?
So say tea leaves, Amazon
The next version of Apple Mac OS X operating system, Snow Leopard, will be released on June 8 - if one Apple-watcher's prediction is correct.
The Baltimore Sun's David Zeiler, writing in his "Apple a Day" blog, came to this conclusion by recounting recent history and examining the events schedule of San Francisco's Moscone Center, the home of Apple's Worldwide Developers Conference (WWDC) since 2003, when it moved from its previous venue, Silicon Valley's San José Convention Center.
WWDC has traditionally vied with January's Macworld Expo as the stage for major Apple announcements. At his keynote for WWDC 2008, for example, Steve Jobs announced Snow Leopard, aka Mac OS X 10.6, which he said would be ready in "about a year."
Apple has not yet announced the dates of this year's WWDC, but last year, the five-day event was held June 9-13. In 2007, it was June 11-15, and in 2005, it was June 6-10. WWDC 2006 was an outlier, taking place August 7-11 - likely because Apple was waiting for Intel to provide the Woodcrest-class Xeon processors used in the Mac Pro that it announced at that year's keynote.
To make his Snow Leopard prediction, Zeiler takes one leap of faith: that Apple will choose to showcase their new operating system during the media orgy that accompanies any Apple keynote, whether performed by Steve Jobs or not.
Zeiler then checked Moscone West's schedule - the annex where WWDC is held - and there he found a listing for a seven-day "Corporate Meeting" from June 6-12. Considering that June 6 is a Saturday, and giving Apple two days to set up - including hanging their usual giant banners - the time-honored Monday-morning keynote taking place on June 8 seems a realistic possibility.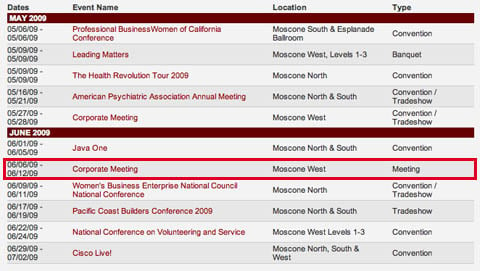 Usual WWDC location? Check. Usual WWDC month? Check. Usual WWDC length? Check.
And here's where Zeiler's sleuthing gets clever. He then checked Amazon's book listings to find out when Snow Leopard books are scheduled for release. Bingo. The earliest ones are planned for mid-June - right after WWDC and right in time for a June 8 Snow Leopard release.
We believe Zeiler is onto something.
But we won't go as far as Philip Elmer-DeWitt of Fortune, who predicts that the man announcing the release of Snow Leopard on June 8 will be none other than His Steveness Himself.
It's not that we don't think Elmer-DeWitt presents a good argument. It's just that we're a bit weary of the ongoing Jobswatch.
Let the poor sick guy alone. ®
COMMENTS
Hope so
I really hope it's released by June 8th (or not much later). I tried to time my ADC membership purchase last year so I could get Snow Leopard for free when it came out. It expires June 18th.
Yes, but...
Real snow leopards are cuter than any operating system:
http://snowleopardblog.com/
@Whoopee
>More fangirls with wet knickers over a bit of software that will do nothing more than the last.
Yeah cus Windows 7 isn't really a fixed up version of Vista? W7 = Vista SE.
Apple have said Snow Leopard is a release that concentrates on speed and footprint. It's also featuring new components to utilise multicore better and utilise 3D hardware as if they're processors.
OSX usually retails around the £89 mark, you get all of the features as there's only one version of the OS for desktops/laptops. Contrast this with Vista which costs a fortune and sucks big time!
What a name
I like the code name for the new release. I suppose, between pirated copies of Windows, and Red Flag Linux, they don't sell a lot of Macs in China anyways, so at least one major company isn't worried about offending the government there. (The Snow Leopard is a Tibetan national symbol.)
Amazon?
What on Earth does Amazon have to do with anything? They have no more information than anyone else, so those release dates are every bit as speculative as all the rest.
There's an awful lot of echo chamber/recursive reinforcement going on in this article.
Personally I rather hope Apple have learnt their lesson from Leopard and MobileMe, and will hold off until SL is properly ready rather than just trying to hit a convenient release target.