The remote closely resembles a regular TV remote, and most users should have the basics down quickly. That said, some of the functions are somewhat counter-intuitive and take a longer to get the hang of. For instance, there's a record button that will start recording immediately if you're watching live TV, as you might expect it to. But if you're flicking through the electronic programme guide (EPG) and want to schedule a recording, the record button doesn't do anything. Instead, you have to press a strange combination of two other buttons.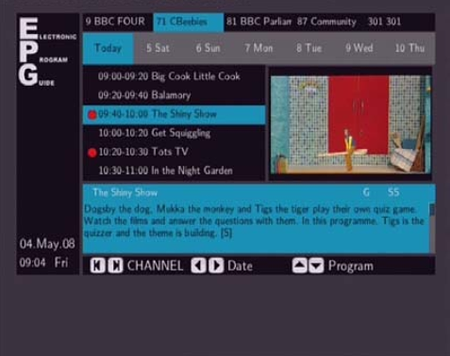 The only way to get programme info is through the EPG
Of course, this the fault of the software rather than the remote itself and, sadly, once you start scratching the surface, the interface quickly becomes clunky and counter-intuitive.
For instance, there's no easy way to get information on the programme you're watching without entering the EPG, so surfing through the channels and pressing a key to get a quick note about what's currently being broadcast is out.

Setting up repeat schedules isn't easy
Similarly, while navigating through the EPG we couldn't find a way to change to the channel whose schedule we were looking at. Every way of quitting the EPG took us back to the channel we entered it from.
This left us flicking through the EPG to find something we wanted to watch, remembering the channel number, returning to the channel we started on and then inputing the new channel number – a somewhat laborious and over complicated process.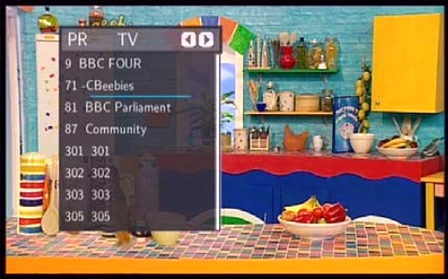 The UI's basic
As mentioned above, scheduling a recording is also trickier than it needs to be and setting up repeat recordings is even more difficult. You have to set the initial recording and then delve into the schedule list and manually adjust the entry for future dates.
COMMENTS
@Jason
You're right, in fact, that I hadn't previously seen the Rapsody gear -- but AFAICT the ones that have screens (RSH-xxx) can't do streaming (i.e. don't have a network connection), and the ones with a network connection (N3x) don't seem to have a screen.
Peter
@ Peter Hartley
"it's the first gadget I've seen that lets you stream video to a TV, *and* has its own screen for listening to audio without having to turn the TV on, both in the same box"
Bollocks. You evidently haven't been looking very hard. Back in 2006 I bought the Rapsody RSH-100, which has its own screen (and controls) built onto the front, so it could be used in the absence of its remote control. Handy for music without having to turn the TV on. It's old tech now, but does somewhat nullify your statement. See it here:
http://rapsody.com.ua/eng/tovar/rsh100.php
http://www.rapsody.ch/
http://www.kjglobal.co.uk/acatalog/Rapsody_RSH-110_3.5__HDD_based_.html
At the moment, I know you can find it for £69 in online retailers (add your own drive), and probably cheaper on eBay. It's a decent piece of kit. There are now newer models out, if you look around I'm sure you'll find them - the RSH-300, for example, is the same basic design but HD-capable.
That's a USB-B Port
"In addition to the two standard USB ports, there's a USB-A socket for attaching the S800 to a PC as an external drive."
The single USB port you call an A port is actually a B port. The dual USB ports at the A ports.
Good article tho. I just wish my ReplayTV would record HD as I like the user interface. If the AppleTV would ship with a couple digital tuners to be a PVR I'd buy one of those. Seems like no one wants to make a device for my recording needs. :-(
WTF?
If the 500GB one costs 250 quid then why on earth does the 1TB model cost 500 quid? That simply does not make any sense. In fact it is an obscene ripoff.
Hold on a minute, how much is the 250GB one??? 125 quid by my reckoning - a bargain....
Hi Def?
No support for most Hi-Def video files in a high-Def streamer seems to make it a doorstop IMHO.