Emtec Movie Cube S800 DVR
TiVo meets AppleTV?
Review There are now many digital video recorders (DVRs) out there and there's also a host of digital media streaming units, but if you're trying to find a device that can do both, you're going to struggle. Until now. Enter the Emtec Movie Cube S800, a gadget that promises to deliver a delicious combination of the two.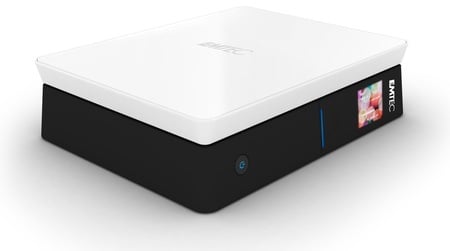 Emtec's Movie Cube S800: yes, it plays movies. But it's not a cube
Emtec is probably best known for its storage media. Over the last few years, Emtec has branched out a bit, staying within the broad storage arena, but looking at ways of enhancing its products with various other features.
The Movie Cube S800 is an example of this diversification. It's essentially an external hard drive, but it also includes a pair of TV tuners - one DVB-T and one UHF - giving Brits access to both Freeview and the basic selection of analogue channels. Although this should be fine for some folk, building in two DVB-T tuners would have been better, especially with the digital switchover underway.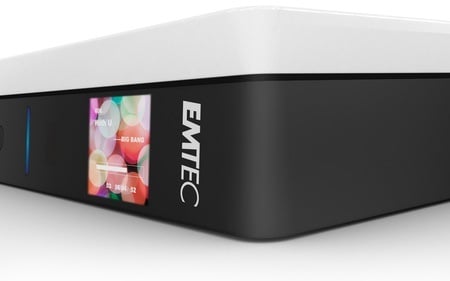 Only one digital tuner
The S800 packs in a capacious hard drive - our review unit came with 500GB of storage space, but Emtec also offers 250GB, 750GB and 1TB versions - and if you need more space, you can connect an external drive to one of the unit's two USB ports or stream content over the network before even having to consider opening up the box to replace the drive.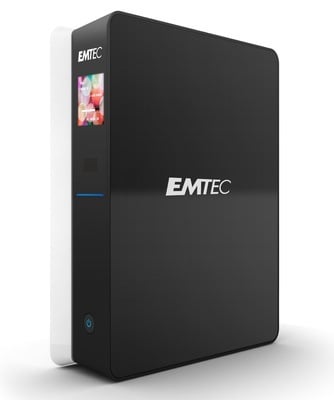 The info LCD flips orientation when you rotate the box
The unit itself has a nice looking is somewhat quirky half black, half white casing. It's designed to work either lying flat or standing on its side, so it's easy to find it a home no matter what the layout of your entertainment set-up.
COMMENTS
@Jason
You're right, in fact, that I hadn't previously seen the Rapsody gear -- but AFAICT the ones that have screens (RSH-xxx) can't do streaming (i.e. don't have a network connection), and the ones with a network connection (N3x) don't seem to have a screen.
Peter
@ Peter Hartley
"it's the first gadget I've seen that lets you stream video to a TV, *and* has its own screen for listening to audio without having to turn the TV on, both in the same box"
Bollocks. You evidently haven't been looking very hard. Back in 2006 I bought the Rapsody RSH-100, which has its own screen (and controls) built onto the front, so it could be used in the absence of its remote control. Handy for music without having to turn the TV on. It's old tech now, but does somewhat nullify your statement. See it here:
http://rapsody.com.ua/eng/tovar/rsh100.php
http://www.rapsody.ch/
http://www.kjglobal.co.uk/acatalog/Rapsody_RSH-110_3.5__HDD_based_.html
At the moment, I know you can find it for £69 in online retailers (add your own drive), and probably cheaper on eBay. It's a decent piece of kit. There are now newer models out, if you look around I'm sure you'll find them - the RSH-300, for example, is the same basic design but HD-capable.
That's a USB-B Port
"In addition to the two standard USB ports, there's a USB-A socket for attaching the S800 to a PC as an external drive."
The single USB port you call an A port is actually a B port. The dual USB ports at the A ports.
Good article tho. I just wish my ReplayTV would record HD as I like the user interface. If the AppleTV would ship with a couple digital tuners to be a PVR I'd buy one of those. Seems like no one wants to make a device for my recording needs. :-(
WTF?
If the 500GB one costs 250 quid then why on earth does the 1TB model cost 500 quid? That simply does not make any sense. In fact it is an obscene ripoff.
Hold on a minute, how much is the 250GB one??? 125 quid by my reckoning - a bargain....
Hi Def?
No support for most Hi-Def video files in a high-Def streamer seems to make it a doorstop IMHO.