Mitsubishi shows revamped 'innovative' EV
Sporty
'Leccy Tech Mitsubishi has whipped the dust covers of the latest iterations of its iMiEV – the MiEV bit stands for 'Mitsubishi innovative Electric Vehicle' – at the Geneva Motor Show.
The iMiEV and it's more sporty sibling, the iMiEV Sport Air – the former is officially a "show model", the latter a "prototype" – are both rear wheel drive electric vehicles powered by 330V lithium-ion battery packs.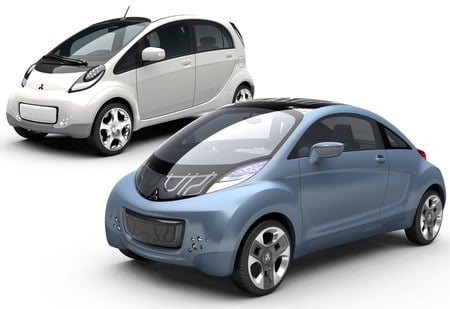 Mitsubishi'a iMiEV and iMiEV Sport Air: now more Euro friendly
In the iMiEV, the battery pack powers a 47kW/180Nm (63bhp/133lbft) electric motor while the unit in the Sport Air is uprated to 60kW/230Nm (80bhp/170lbft).
Though not immediately obvious to the naked eye, the Europeanised iMiEV is subtly different from the Japanese versions seen so far. Front and rear tracks have been widened and front and rear overhangs have both been extended to given better pedestrian and occupant protection in case of collision, Mitsubishi said.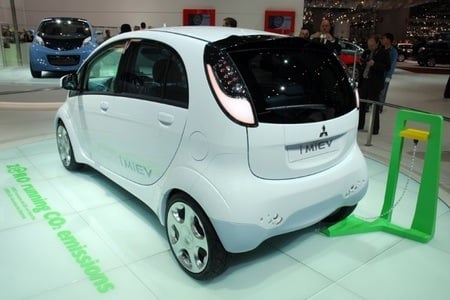 Better pedestrian protection, apparently
Apart from the uprated motor, the Sport Air is also the lighter of the two models, weighing 980kg (2156lbs) to the iMiEV's 1080kg (2376lbs). It's also wider – in track and body - longer and lower, though it shares the iMiEV's 2550mm wheel base. Mitsubishi reckons the Sport Air is a four seater, but we'd describe it more as a two-plus-two.
Mitsubishi this week also issued an announcement making its tie-up with PSA Peugeot Citroen officially official and finally final. Under the agreement, Peugeot Citroen will sell a 'leccy car based on the European iMiEV for which it's "targeting a market launch at the end of 2010 or the very beginning of 2011". ®
Sponsored: RAID: End of an era?