Lenovo IdeaPad S10e netbook
The ThinkPad of laptots?
Differentiating from other netbooks, the S10e uses a 1024 x 576 resolution, unlike the 1024 x 600 panels that most other netbooks are using, including the original S10. The selling point of this is that it's a widescreen telly style 16:9 aspect ratio - whoop-de-doo. In fact, all we're seeing is fewer pixels for our viewing pleasure. Frankly, we'd rather have the 24 pixels back and put up with some (narrow) letterbox bars when watching videos.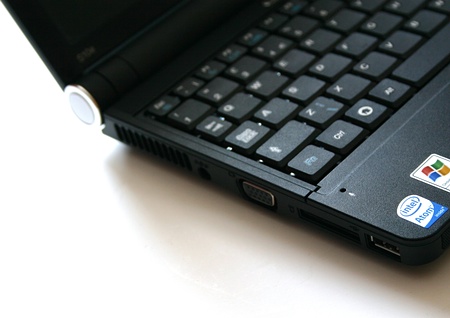 Who decided to swap the Ctrl and Fn keys?
It is, however, a fairly nice screen, with the glossy finish that really brings out the colours, partly helped by the use of LED backlighting. The downside is that the viewing angle is rather poor, and if viewed from a less than optimal position, colours really start to suffer. This is really noticeable when you're on a Skype call, as the 1.3Mp camera is mounted at the top of the screen, where the angle can only be adjusted by moving the display itself - at least it's a sturdy hinge and stays in place.
The built-in microphone is unfortunately located where just below the keyboard where your hands are likely to be if you find yourself taking notes during a Skype conversation. Things aren't much better with the speakers either, being under powered and positioned at the very front. If you're into Skype, you'll definitely want to consider using a headset.
Without a doubt, one of the most important aspects of a netbook is the input mechanisms, and by and large Lenovo has done a good job. Aside from the sensitivity issue - which is easily adjusted in XP - the touchpad works nicely, with responsive buttons. The keyboard is also a fairly decent size, and we could happily type on it for hours at time.
However, there are two complaints, which are common to many netbooks. Firstly, the Function key is on the outside edge of the keyboard, instead of the Control key – which has meant several URLs never made it into the clipboard. But more annoyingly, the right-hand Shift key is small, and much to our frustration, we found ourselves hitting the up arrow instead. Both of these issues aren't deal breakers though, as with a little practice , you can get around them.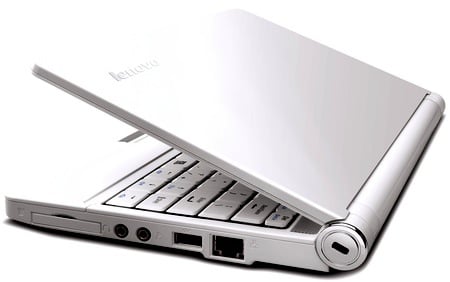 Does anyone still use PC Cards?
On the left side, we see a USB 2.0 port, VGA port for an external monitor and an SD card slot. SD cards unfortunately jut out of the netbook, so don't lend themselves to being permanently installed. Also of note: we couldn't boot from SD cards either, for those who like to keep a Linux distro on SD cards. On the right side, there's a PC Card slot - does anyone use these any more? - another USB 2.0 port, Ethernet and 3.5mm headphone/microphone sockets.
Sponsored: Minds Mastering Machines - Call for papers now open