Asus unfolds dual-screen laptop/e-book reader
Prototype display seen at CeBit
Cebit 09 Two screens are better than one, aren't they? The answer's yes, at least according to Asus – developer of a dual-screen display shown off at the ongoing Cebit show in Germany this week.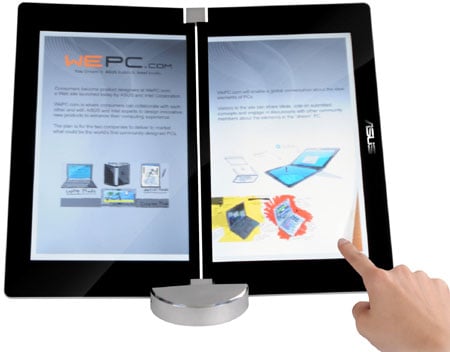 Asus' prototype dual-screen device
Although still only a prototype, the Asus machine would have four main modes: laptop, e-book, cinema and artist. The latter could be some form of Photoshop application, allowing the user to draw and sketch using a stylus or their finger.
According to various online reports, a working model was seen running Windows 7 earlier this week at CeBit. However, exactly what functions the dual-screen device was able to perform, if any, is unclear.
Aside from touch-based operation, the displays would be able to bring up a virtual keyboard on either screen. Users may also be able to opt for a larger one to be spread across both.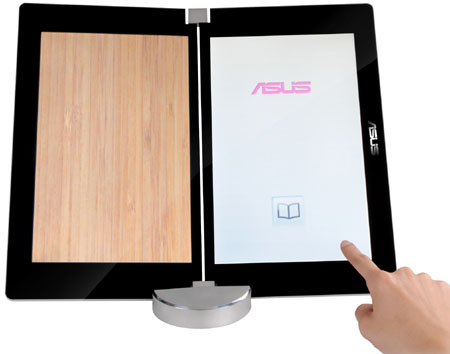 The wood laminate option would be optional, we hope
In cinema mode films would, we assume, be spread across the two screens to form a wider viewing area - but who wants a thick black line down the middle of the picture?
So the ability to watch a film on the top screen while simultaneously surfing the web on the bottom panel would definitely be a plus.
No plans to launch the unnamed device have surfaced yet. ®
COMMENTS
Woot
If those screens are actually as big as they look (maybe equivalent to a normal 8"x10" sheet of paper) I would be all over an e-Ink version for book reading. That's my only problem with the current ebook generation - they can't handle the larger formats that -ahem- "Tech Manuals" come in...
Asus is starting to piss me off
They need to stop showcasing things I'm not allowed to buy yet.
Size?
I don't suppose Asus have offered detailed specs yet, but some indication of the screen size might be nice. As it is, we're left to judge from the inclusion of a finger or two in the pictures. So...is it a child's finger, or a bloody enormous pair of screens, or a photoshop job?
(Note: no "TM" or capitalisation of photoshop. I'm using the term generically, like hoover or biro, or portacabin.)