LG Super Multi Blue BE06-LU10
Very fast, very capacious
An external drive has appeal as it allows you to avoid the expense and hassle of installing an internal drive. In the case of the BE06-LU10, the hassle factor is especially relevant as you may not be able to install a SATA optical drive inside your PC. Older motherboards don't have SATA connectors and more recent motherboards can throw a fit if you're using AHCI drivers with your hard drive as they don't play nicely with optical drives.
CD Burn Test Results

Burn time in minutes
Shorter bars are better
Clearly the interest in the BE06-LU10 centres on the Blu-ray writing feature with its hefty capacity of 25GB capacity on each disc instead of the usual 4.7GB single-layer or 8.5GB dual-layer DVD. Dual-layer BD-R sounds tempting, but at £20 per 50GB disc, it's horribly steep.
Our major problem with the LG is that we feel sure most people simply don't need a Blu-ray writer. For starters, anyone who wants to play Blu-ray Discs can buy an external drive, like the Lite-On DX401S-03C, for £75.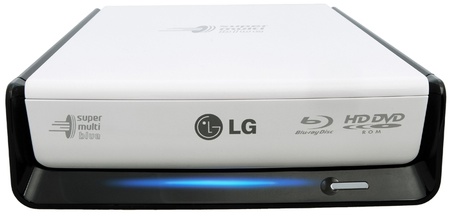 Good if you really need it
Those who wish to transport more than 4GB of data quickly and conveniently can buy a 16GB Flash drive for £25 or a 32GB model for £40. Anyone who wants to transport huge amounts of data should invest a piffling 70 quid in an external USB 250GB hard drive. This is the reason why your reviewer is so out of touch with the speed of the latest DVD rewriteable media - he simply gives Blu-ray a wide berth and sticks to AVI or DivX movie files on a device that isn't laden to the gunnels with DRM.
This means – in our opinion - that the BE06-LU10 is only likely to be of interest to the tiny handful of people who author and burn HD movies to Blu-ray. If you happen to fall into that category and can't or won't install an internal Blu-ray burner then the BE06-LU10 gets our vote.
Verdict
LG has come up with an external Blu-ray writer that is blazingly fast and modestly priced, but we're unsure who might actually be in the market for such a device. ®
More Storage Reviews...
| | | | |
| --- | --- | --- | --- |
| LG GP08NU10 | Pioneer DVR-116D | Samsung S1 Mini | OCZ Apex SSD |
Sponsored: Minds Mastering Machines - Call for papers now open

LG Super Multi Blue BE06-LU10
LG unveils the fastest external Blu-ray writer in the world - but who writes to Blu-ray?