LG Super Multi Blue BE06-LU10
Very fast, very capacious
The key question is whether the addition of a USB 2.0 interface has any effect on the speed of the BE06-LU10 compared to the internal GGW-H20L drive. We slammed together a test system that consisted of an Intel DX58SO motherboard with a Core i7 965 processor, 3GB of 1066MHz DDR 3 memory and an Intel X25-M solid-state drive, all running Windows Vista Ultimate.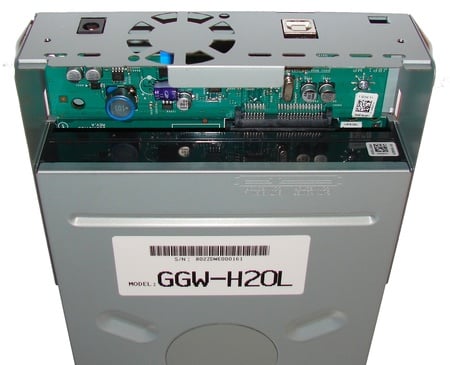 The internal drive inside the external
Next, we installed the bundled CyberLink Hi-Def Suite which consists of PowerDVD Ultra aka PowerDVD 7.3, PowerProducer v4, PowerBackup, Power2Go 5.5 which is the main disc writing application, the InstantBurn packet writing utility and LabelPrint. The LG also supports LightScribe so you can add labels directly to the surface of the disc. Installation of the software is quick and easy as the installer treats the suite as a unified whole and you don't even need to enter a CD key as it's handled automatically.
The other piece of software is LG's ODD Auto Firmware Update, which is useful as the LG support and download page is something of a nightmare to navigate.
Blu-ray Disc Burn Test Results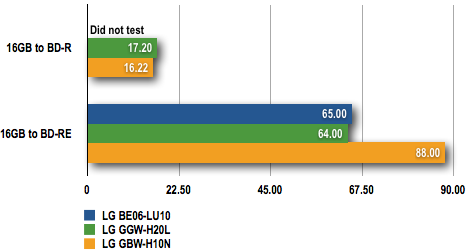 Burn time in minutes
Shorter bars are better
We had a hunt through our stack of DVD media and ran the same tests that we used with the internal drive, burning 16GB of data to Blu-ray, 4GB to DVD and 350MB to CD. As you can see from our test results, the external LG runs at exactly the same speed as the internal drive. However, there are a couple of points to make here.
We didn't test the external drive with BD-R media as we don't have any to hand and the £7-per-25GB-disc cost put us off the idea of buying a pack. BD-RE media is, at £12 per disc, far better value as it's reusable, but both types of Blu-ray media are only available with a burning speed of 2x while the GGW-H20L is capable of BD-R 6x and BD-RE 2x.
DVD Burn Test Results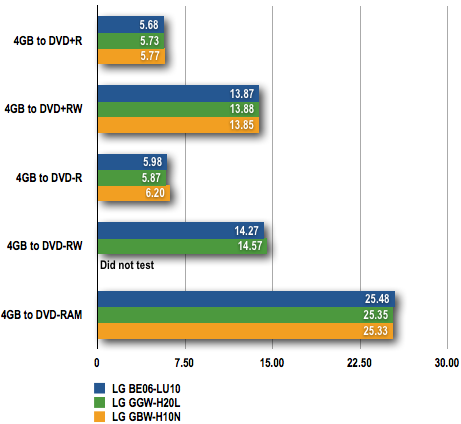 Burn time in minutes
Shorter bars are better
On the DVD front, both LG drives are rated at DVD-RW 6x and DVD+RW 8x, but the fastest rewriteable DVD media we have is Verbatim 4x, which costs 40p per disc. We probably bought that media about a year ago and we see that you can now buy 6x DVD-RW for 46p per disc and 8x DVD+RW for 65p. We've got some of this media on order but this brings home how rarely your reviewer burns DVDs these days - which takes us to the heart of the matter with the BE06-LU10.
Sponsored: Minds Mastering Machines - Call for papers now open